Be a part of Your AIA.
Make a difference in Your Profession.
Add Your Voice to the conversation.
---
AIA New Jersey is looking for members interested in serving as one of twelve At-Large Trustee positions for the 2019 year. AIA West Jersey seeks local volunteers to represent our geographic region of the state on this board. Please consider stepping up, giving back and working to make AIA better for you, the members.
This is an excellent opportunity to have a voice in the workings of an organization that builds and sustains the VALUE OF THE ARCHITECT.
Applications for the six (6) 2019 At-Large Trustee positions are currently being accepted, and must be completed by June 15, 2018. Full details and the application are available via the AIA NJ website: 2019 At-Large Trustee Information and Application
Special Announcement for Emerging Professionals and Associate AIA members:
There are positions available immediately and in 2019 for the local and state Emerging Professionals Community (EPiC), and Young Architect Regional Director (YARD), please contact AIA West Jersey President-Elect and AIA NJ YARD, Jessica O'Donnell, AIA: jessica.mae.odonnell@gmail.com
The 2018 AIA West Jersey Photography Competition is accepting submissions for it's 13th annual event. This competition is open to the public, as well as AIA members. Please share with friends and family.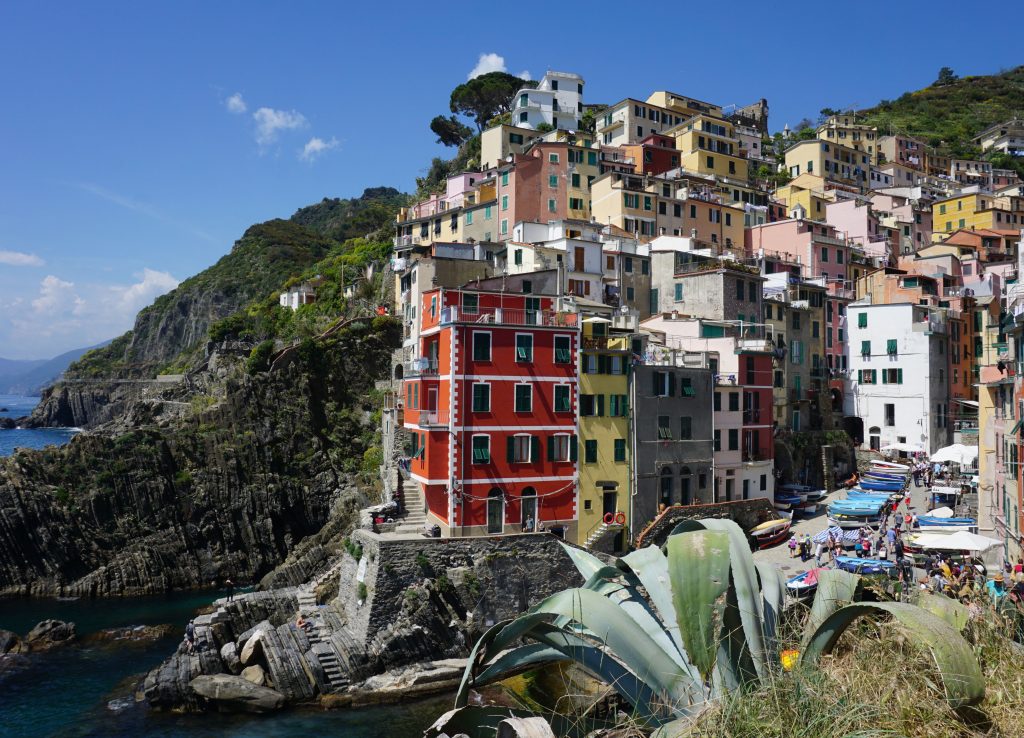 Photo Credit: Robert Auld, AIA | Rio Maggiore

Winning entries will be used in the AIA West Jersey 2019 Calendar that will be distributed to members and affiliates. Images of the winning entries may be shown at AIA-WJ events held and online/social media channels. Three cash awards from the winning entries will also be presented.
Full Photography Competition and Entry Form are available below.
2018 Competition and Entry Form
Good luck from AIA West Jersey!

Register today for three immersive days of what's new and now in architecture and design, hosted in one of the most iconic cities in the world. At A'18, some of the most creative architects, designers, and firms will share how they're creating their own blueprint and making a difference in cities of every size all over the world.
Get all the details at the A'18 website: http://conferenceonarchitecture.com/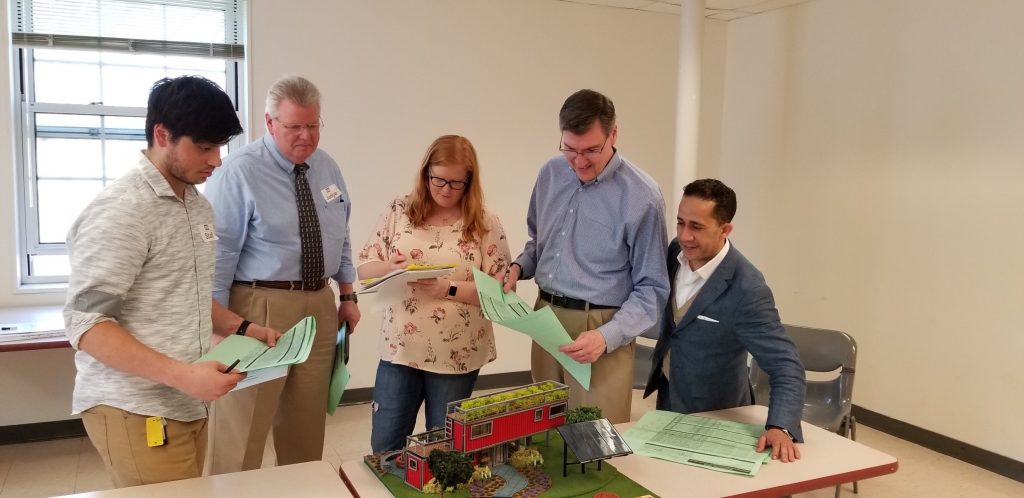 Saturday April 14, 2018 at the College of New Jersey in Ewing, New Jersey was the site of the NJ – "TSA (Technology Student Association)" High School Conference which included representation from High Schools from all over the State of New Jersey. The competitive event categories were: 3D Animation, Animatronics, Architectural Design, Biotechnology Design, Coding, Computer-Aided Design – Architecture, Computer Integrated Manufacturing, Engineering Design, etc.
In reference to the Architectural Design Category, the students were tasked with the design of a Tiny House that can be built using modern shipping containers as the basic shell for a structure. The project included the following:
• Research on small and tiny houses.
• The design should maximize the use of limited space for living.
• Include innovative storage concepts.
• Must have a living area, kitchen, laundry facilities, half bath, full bath, and two bedrooms.
• The containers are (2) 40'-0" long containers.
• Only the height of the containers can be altered, etc.
• LEED sustainable features, etc.
• Structure must be able to be taken apart and moved to another site. Cannot be built on a movable trailer structure.
The students had to do the design and documentation over the school year and meet a checklist of items as part of their deliverables.
Alison Goeke the state adviser for NJ TSA asked AIA New Jersey for volunteers that would be interested in being jurors for the event. Sean Cuddahy, AIA (current President of AIA-Central). Bob O'Reilly, AIA (AIA-West Jersey Trustee), and John Lyon, AIA (AIA-Central member) were the jurors representing AIA-new Jersey along with Anne Goodman (a recent graduate of TCNJ's iSTEM program and current teacher), and Mike Scilla (a junior at TCNJ and who participated in TSA in high school).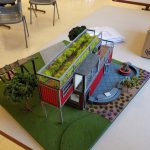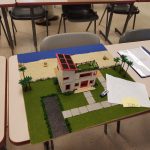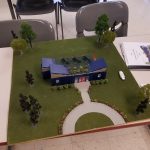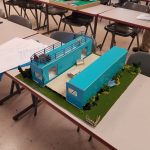 There were 17 entries from 17 different high schools. The entries were evaluated on the completeness and quality of the documentation submitted, their approach and understanding of the design problem, the quality and completeness of the drawings and model.
The quality and understanding of the design problem was impressive. There was also 3D printing of the storage container and furniture used by some of the students (noting they are only in high school). It was a great time had by all and great opportunity for AIA New Jersey to contribute to this great event.
AIA West Jersey will host a General Membership Dinner on May 10th. This event will feature a code seminar by Robert Austin from NJ Department of Community Affairs on the Rehabilitation Subcode.
RSVP today to reserve your spot. Pre-register for this event via TicketLeap and save
Thank you to our event sponsors: Garland Industries, Inc. and Diversified Lighting Associates,Inc. Learn more about these companies and all our Allied Members at our website.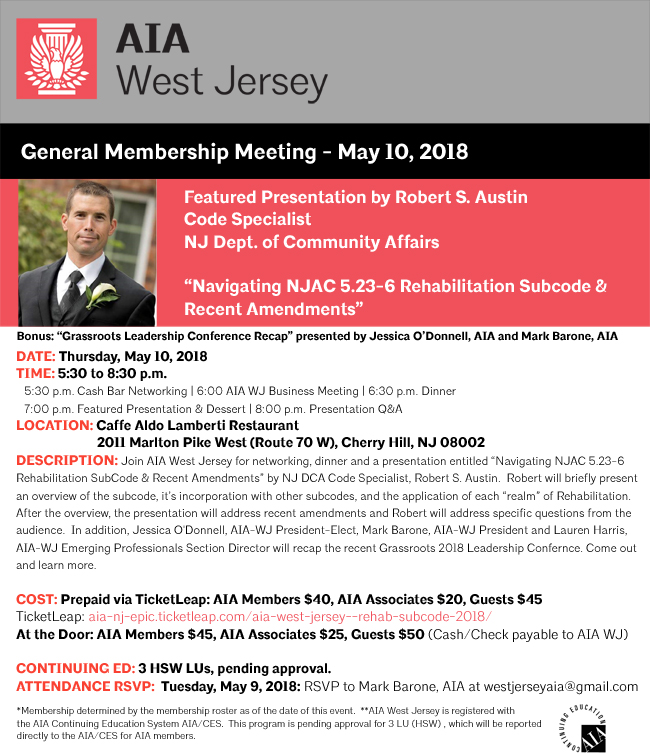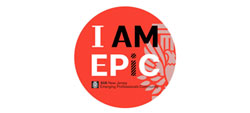 On March 19, 2018, Emerging Professionals (EPs) from AIA West Jersey met at J. Randolph Parry Architects in Riverton, NJ for the ARE Success Teams Kick-Off Event.
Representatives from AIA-NJ EPiC (Emerging Professionals Community) and NCARB simulcast information on Architectural Experience Program (AXP) and the Architect Registration Exam (ARE), across the state to the study teams in each of New Jersey's local AIA components. These teams will begin to meet monthly to support each other in their efforts to pass the ARE 5.0 beginning with an ARE Trivia Challenge in April and a lecture by the Young Architect, Mike Riscica in May.
Support your local Emerging Professionals by attending the "Are You Smarter Than An Associate" ARE Trivia Challenge on Thursday, April 12 at 6pm at the Taproom Bar & Grille in Haddon Township, NJ.
AIA West Jersey members have the opportunity to attend this event hosted by AIA WJ Allied Member: DuBell Lumber Company.
Please consider attending and supporting our Allied Members.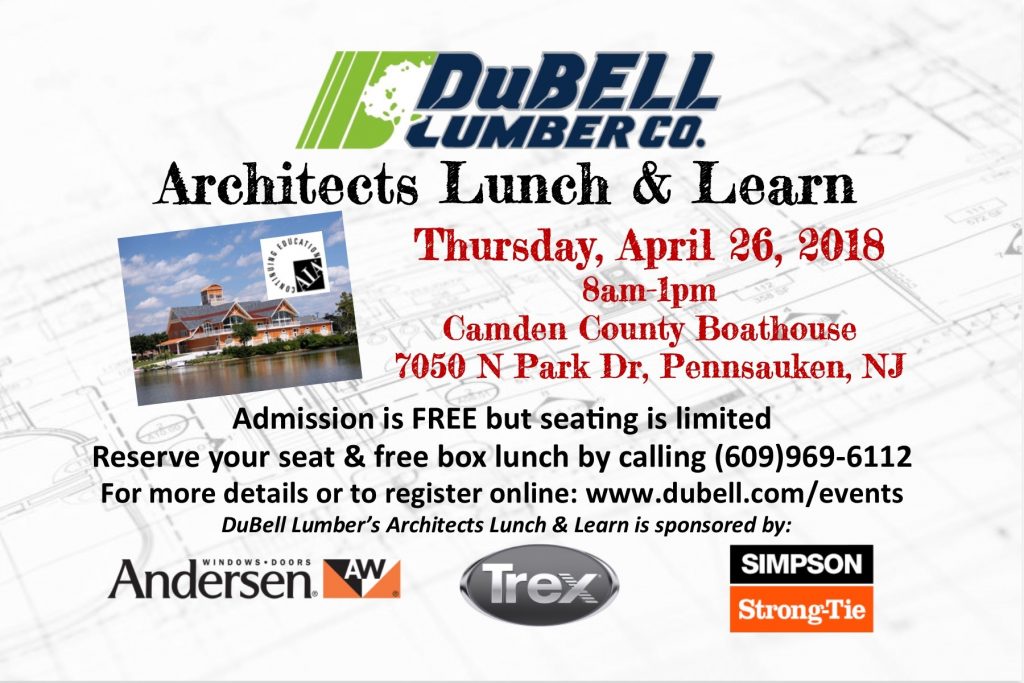 ---
The DuBell Lumber Company Hosting April 26th AIA-Credit Architects Lunch & Learn at the Camden County Boathouse.
Medford, NJ – Thursday, April 26th, 2018, from 8am-1pm.
The DuBell Lumber Company of Southern New Jersey will host the second of its four Architects Lunch & Learn AIA-credit events scheduled for 2018.
The event will be held at the Camden County Boathouse in Pennsauken, 7050 N. Park Drive, right on the banks of the Cooper River and just off of Route 70.
The DuBell Architect Lunch & Learn educational events are open to all architects and is free to attend.
Earn 3 HSW AIA Continuing Education Credits. The April event will offer three seminars.
Attendance at each seminar will earn one (1) AIA HSW Health, Safety, and Welfare credit. A total of three (3) credits may be earned at this event.
Program details:
8:00am-8:30am Registration, morning refreshments
8:30am-12:00pm Scheduled presentations:
Window Code Fundamentals
Presented by Andersen Windows (AIA West Jersey Allied Member)
Latest Developments in Wood Alternative Decking
Presented by Trex
Deck Building 101
Presented by Simpson Strong-Tie
12:00-pm-1:00pm Box Lunch – Participants are encouraged to stay, eat lunch & network.
Admission to this event is free, however seating is limited so we ask that participants pre-register.
Architects may register online or by calling Michelle Lennox at The DuBell Lumber Co. (609) 969-6112.
To register online, go to The DuBell Lumber Company website Events page:
https://www.dubell.com/events/
Serving the region since 1922, The DuBell Lumber Company is your Building Materials Solution Provider. Visit us online at www.dubell.com

---
Learn more about AIA West Jersey Allied Members at our website: https://aiawestjersey.org/allied-members/

---
Are you an ARE candidate or a licensed Architect looking to have a night of fun?
Join us on 4/12 for an evening of trivia at 'The Tap Room.' Attendees will earn (2) HSW credits for participating in our ARE Trivia night. AIA Members from any section as well as non-AIA members are welcome to attend.
Please RSVP to Lauren.M.Harris@outlook.com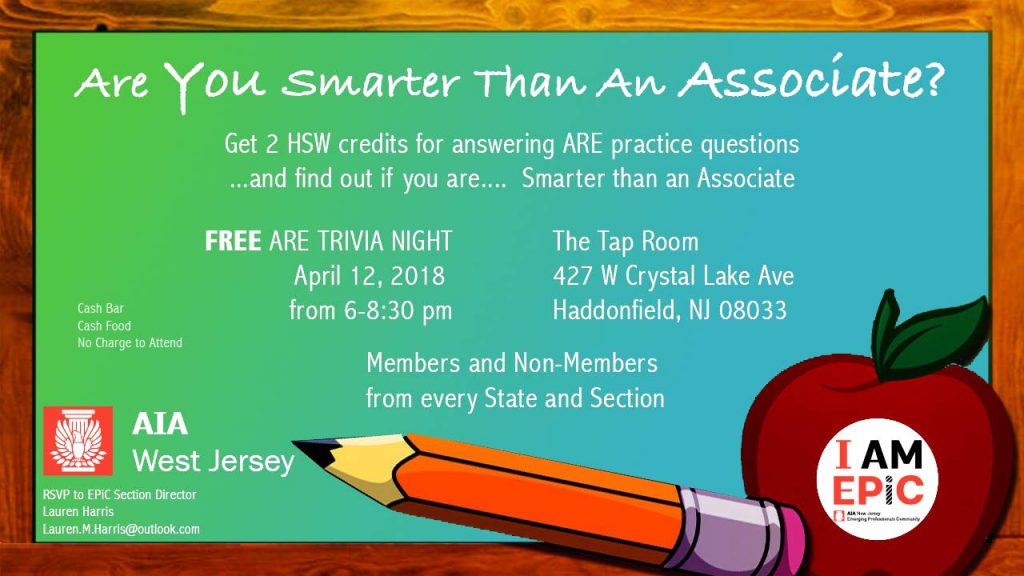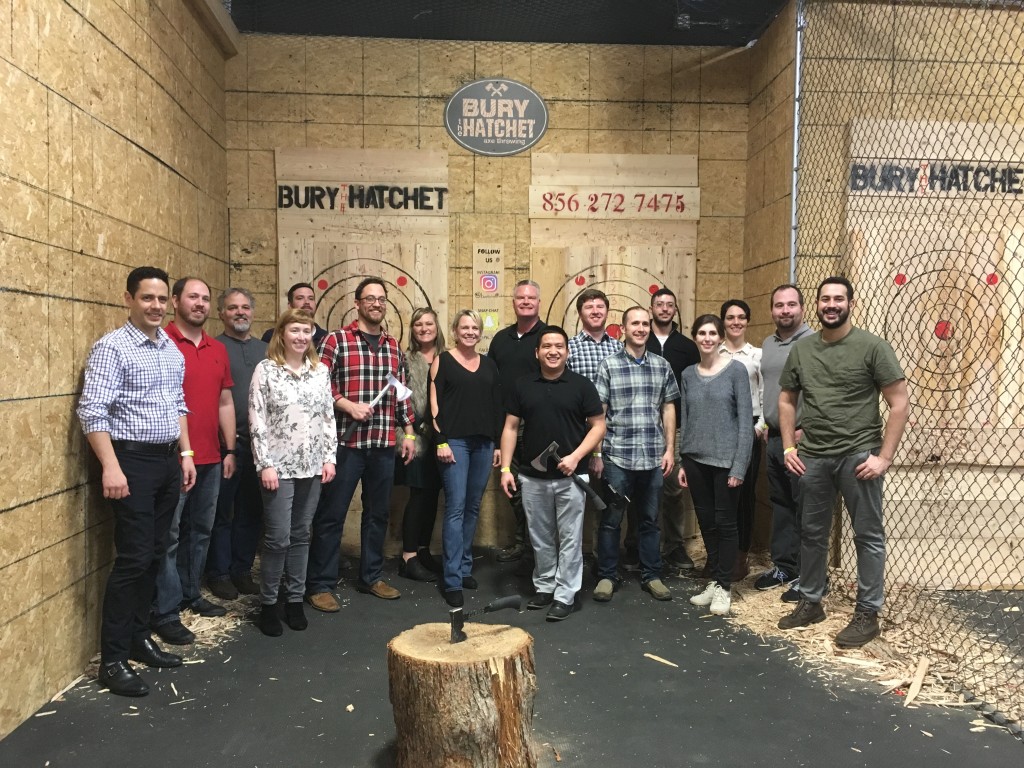 On February 15, 2018, Emerging Professionals (EPs) from AIA West Jersey and AIA Philadelphia came together to discuss upcoming events and volunteer opportunities for EPs in 2018.  The group of roughly 20 participants learned to throw axes from the skilled masters at Bury the Hatchet in Cherry Hill, NJ.  After a round robin tournament to determine seating, architects competed in a single elimination tournament.
During the event, attendees engaged the event sponsor Won-Door Corporation in conversation and enjoyed the provided food and beverages.  Thank you to Sean Hilgeman and Courtney Watson, for supporting AIA West Jersey.
This social event was a great start to the 2018 Emerging Professionals calendar.  Stay tuned for upcoming events featuring ARE Prep and more fun socials.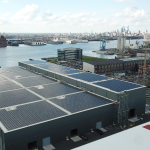 Join us on Saturday, March 17, for a tour of Holtec International's Krishna P. Sign Technology Campus with presentations by Holtec and the design archtiect.
Pre-registration is required by 3/10  aia-nj-epic.ticketleap.com/aia-west-jersey—holtec-building-tour/
A valid photo ID must be brought for security clearance. Parking is available on site.
SCHEDULE:
9:00 – 9:30 am  Arrival, Security Check-in
9:30 – 12:30 Presentations, Discussion & Tour
MORE INFORMATION:
The Krishna P. Singh Technology Campus was developed by HTC, LLC, a wholly owned subsidiary of Holtec International. The Campus occupies approximately 50 acres of the land on the left bank of the Delaware river in south Camden where the famed New York Shipyard (now a major cargo port operated by the South Jersey Port Authority) once stood.
The Krishna P. Singh Technology Campus consists of two large manufacturing plants, a seven story corporate engineering center, a system test facility (without nuclear fuel), and support installations like a training center, non-destructive testing laboratory, and corporate apartments. All shops, laboratories, and facilities within the Campus are state-of-the-art. In particular, the manufacturing plant is configured to incorporate the latest in fabrication machinery and information management software to enable precision manufacturing of large and complex weldments (definition: A unit formed by welding together an assembly of pieces.)