Founded in 1857, the American Institute of Architects (AIA) is the voice of the architecture profession. With over 94,000 members and more than 200 chapters worldwide, it is the largest and most influential professional association for architects, emerging professionals in the field of architecture, and those directly involved in the practice of architecture. The American Institute of Architects serve the public's needs and builds awareness of the role of architects and architecture in American society.
In 1896, the Society of New Jersey Architects was formed, but was disbanded in 1900 when a chapter was granted to New Jersey by The American Institute of Architects. Today AIA New Jersey continues to be a chapter and single-state region of the national AIA organization. The chapter is divided into six local sections: the Architects League of Northern NJ, AIA Central Jersey, AIA Jersey Shore, AIA Newark & Suburban, AIA South Jersey and AIA West Jersey.
The AIA West Jersey section, formed in 1925, was created to help connect AIA with its local individual architects and the communities in which they are established. AIA West Jersey offers its members a variety of support through AIA recognized programs, continuing education seminars, community outreach, and advocacy, to best serve our communities they exist. AIA-WJ is a growing section which contains over 200 members and encompasses Burlington, Camden, Gloucester, and Salem Counties. For almost 100 years, AIA West Jersey has aspired to meet the constantly changing needs and interests of its members and the public by developing public awareness on the value of architecture and the importance of good design.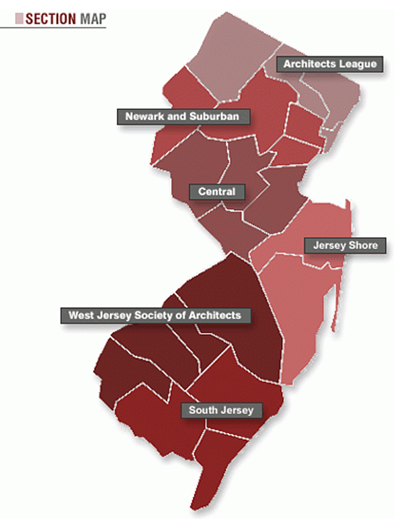 AIA West Jersey President's Honor Roll
Presidents from 2000 – Present
Ronald D. Franke, AIA
2000
William J. Cohen, AIA
2011
Anthony Sirizzotti, AIA
2001
Robert W. O'Reilly, AIA
2012
Russell James Willard, AIA
2002
R. James Del Grosso, AIA
2013
Francisco Y. Lado, AIA
2003 & 2004
Jason M. Lutz, AIA
2014, 2015, & 2016
Harry E. Wright, AIA
2005
Mark C. Barone, AIA
2017 & 2018
Kimberly L. Bunn, AIA
2006
Jessica M. O'Donnell, AIA
2019
Grant C. Peatman, AIA
2007
David N. Lummis, AIA
2008
Presidents from 1925-1999
Arnold H. Moses, AIA
1925, 1926, 1927, & 1928
Herbert R. Moffett, AIA
1929 & 1930
Joseph N. Hettel, AIA
1931, 1932, & 1933
Arthur B. Gill, AIA
1934, 1935, & 1936
Joshua C. Jefferies, AIA
1937
F. Herbert Radey, AIA
1938 & 1939
Clarence L. MacNery, AIA
1940 & 1941
Alfred Green, AIA
1942 & 1943
Louis H. Goettelmann, AIA
1944, 1945, & 1946
Charles H. Donehower, AIA
1947 & 1948
J. Raymond Knopf, AIA
1949 & 1950
Edward A.L. Cox, AIA
1951 & 1952
William K. Albert, AIA
1953 & 1954
Oren R. Thomas Sr., AIA
1955
Dante J. D'Anastasio, AIA
1956 & 1957
Charles B. Willard, AIA
1958 & 1959
Oren R. Thomas Jr., AIA
1960 & 1961
Joseph M. Kuder Jr., AIA
1962 & 1963
C. Jones Buehler, AIA
1964 & 1965
John T. Oliver, AIA
1966 & 1967
Armand J. Nasuti, AIA
1968
Robert C. Thomas, AIA
1969
Joseph Costanza Jr., AIA
1970
L.H. Goettelmann II, AIA
1971 & 1972
Joseph V. Lisiewski, AIA
1973
Robert F. Thompson, AIA
1974
David B. Murphy, AIA
1974
C. William Wolfe, AIA
1975
Charles E. Frates, AIA
1977
Joseph R. Borda, AIA
1978
Ralph E. Pendrak, AIA
1979
Joseph G. McCaffrey, AIA
1980
William P. Lammey, AIA
1981
Charles A. Clauser, AIA
1982
Nicholas Settanni, AIA
1983
Paul L. Heckendorn, AIA
1984
Wayne A. Neville, AIA
1985
Daniel D. Sciullo, AIA
1986
Charles J. Weiler, AIA
1988 & 1989
Harry A. DiFazio, AIA
1990
Harold Lichtman, AIA
1991
Ronald D. Franke, AIA
1992
David W. Danton, AIA
1993
Neil K. Johnson, AIA
1994
Gary H. Kanalstein, AIA
1996
Robert J. Ignarri, AIA
1997
John L. Capelli, AIA
1998
Joseph V. Lisiewski II, AIA
1999