ARE Success Teams Kick-Off – March 19, 2018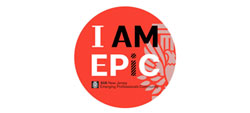 On March 19, 2018, Emerging Professionals (EPs) from AIA West Jersey met at J. Randolph Parry Architects in Riverton, NJ for the ARE Success Teams Kick-Off Event.
Representatives from AIA-NJ EPiC (Emerging Professionals Community) and NCARB simulcast information on Architectural Experience Program (AXP) and the Architect Registration Exam (ARE), across the state to the study teams in each of New Jersey's local AIA components. These teams will begin to meet monthly to support each other in their efforts to pass the ARE 5.0 beginning with an ARE Trivia Challenge in April and a lecture by the Young Architect, Mike Riscica in May.
Support your local Emerging Professionals by attending the "Are You Smarter Than An Associate" ARE Trivia Challenge on Thursday, April 12 at 6pm at the Taproom Bar & Grille in Haddon Township, NJ.