Allied Member Event: DuBell Lumber Co. – April 26, 2018
AIA West Jersey members have the opportunity to attend this event hosted by AIA WJ Allied Member: DuBell Lumber Company.
Please consider attending and supporting our Allied Members.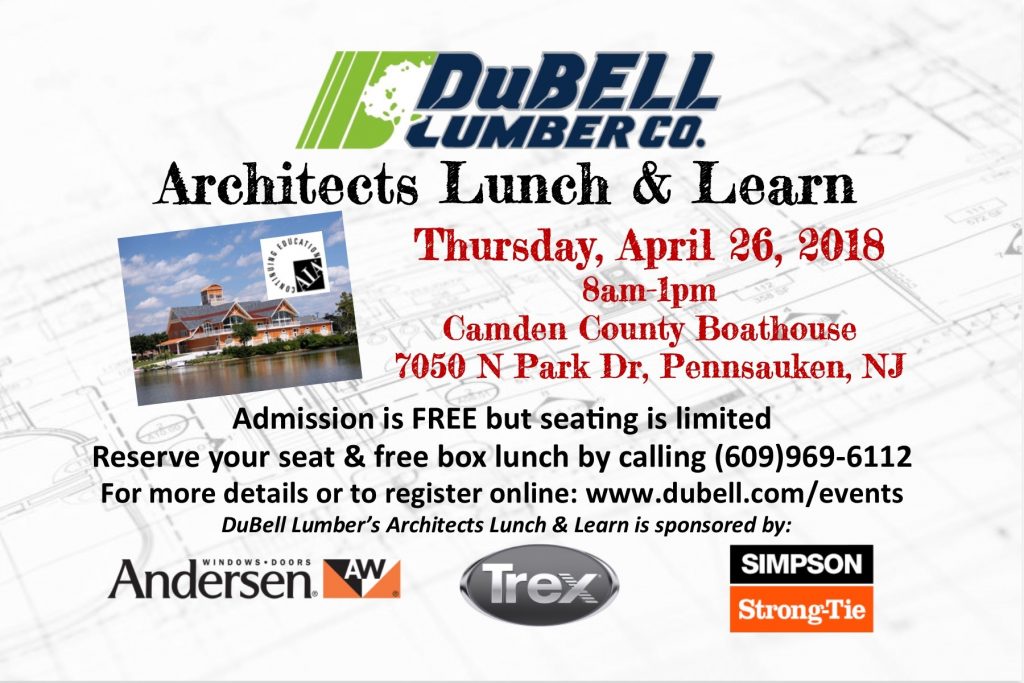 ---
The DuBell Lumber Company Hosting April 26th AIA-Credit Architects Lunch & Learn at the Camden County Boathouse.
Medford, NJ – Thursday, April 26th, 2018, from 8am-1pm.
The DuBell Lumber Company of Southern New Jersey will host the second of its four Architects Lunch & Learn AIA-credit events scheduled for 2018.
The event will be held at the Camden County Boathouse in Pennsauken, 7050 N. Park Drive, right on the banks of the Cooper River and just off of Route 70.
The DuBell Architect Lunch & Learn educational events are open to all architects and is free to attend.
Earn 3 HSW AIA Continuing Education Credits. The April event will offer three seminars.
Attendance at each seminar will earn one (1) AIA HSW Health, Safety, and Welfare credit. A total of three (3) credits may be earned at this event.
Program details:
8:00am-8:30am Registration, morning refreshments
8:30am-12:00pm Scheduled presentations:
Window Code Fundamentals
Presented by Andersen Windows (AIA West Jersey Allied Member)
Latest Developments in Wood Alternative Decking
Presented by Trex
Deck Building 101
Presented by Simpson Strong-Tie
12:00-pm-1:00pm Box Lunch – Participants are encouraged to stay, eat lunch & network.
Admission to this event is free, however seating is limited so we ask that participants pre-register.
Architects may register online or by calling Michelle Lennox at The DuBell Lumber Co. (609) 969-6112.
To register online, go to The DuBell Lumber Company website Events page:
https://www.dubell.com/events/
Serving the region since 1922, The DuBell Lumber Company is your Building Materials Solution Provider. Visit us online at www.dubell.com

---
Learn more about AIA West Jersey Allied Members at our website: https://aiawestjersey.org/allied-members/

---