In case you missed it: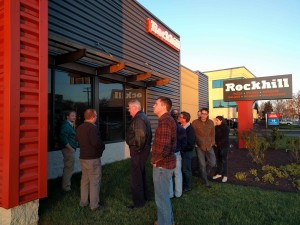 The AIA West Jersey Emerging Professionals Community (EPiC) convened on Tuesday evening, March 29th at Rockhill Restaurant in Cherry Hill for our monthly Seminar and Social Event.
The seminar featured a tour of the facility conducted by Brad Barker, AIA of The Bannett Group, and project manager for the design of the restaurant. We began by walking the outside of the building and discussing the history of the site, how it was occupied for years by the famous "Big John's Pizza and Steaks", and the goals of the client in building a new restaurant to honor that culinary tradition. Brad discussed the evolution of the design and showed us some of the exterior details before taking the group indoors for a walk-through of the kitchen and dining room.
After the tour, the group enjoyed food and drinks from the Rockhill menu while discussing construction detailing and issues relevant to restaurant design.
The event had a great turn-out, so thanks to all who attended, including our speaker, Brad, who presented a compelling case-study of design-build project delivery.