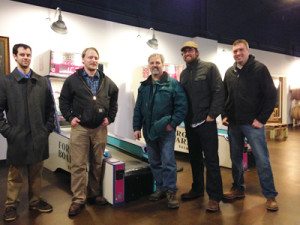 In case you missed it, the AIA-West Jersey Committee of Emerging Professionals in Architecture (CEPA)  kicked off this year's activities with its first social event of 2016 at Forgotten Boardwalk Brewery in Cherry Hill. We enjoyed skee-ball and craft brews while catching up with colleagues and discussing new CEPA initiatives and various events that are planned for the upcoming year.
Please note that the next CEPA Event Social Event and Seminar is fast approaching! Fritz Winterle, CDT, Architectural Consultant for Super Enterprises (local distributor of Marvin Windows) will give a hands-on presentation of proper window installation technique on Thursday, February 25th, 2016 at Playdrome Bowling Center in Cherry Hill. The program will include food, drink, and bowling. Space is limited to twenty [20] people for this event, and admission is free – so don't wait to check out the event page and RSVP.
Hope you all have been making the most of our winter weather, and that you have an enjoyable week!