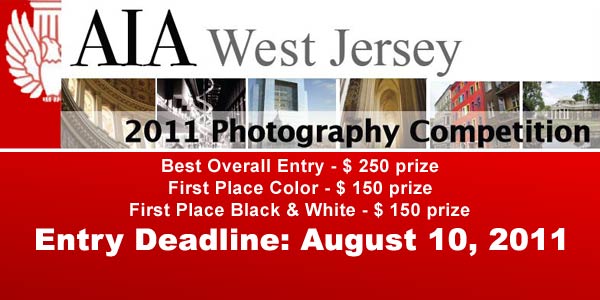 CALL FOR SUBMISSIONS
AIA West Jersey is pleased to announce it's 6th Annual AIA-WJ Photography Competition is open for 2011. We welcome all to submit – architects, associates, students, and shutterbugs to this juried competition. Selected images will be featured in the 2012
calendar and displayed at our Annual Inaugural Gala in January.
Enrty Deadline:
August 10, 2011

ELIGIBILITY:
Competition is open to all AIA members and affiliates,
associates, students and the general public.
CATEGORIES:
Color – Black & White
AWARDS:
A minimum of 13 winners will be chosen for inclusion in the 2012 calendar, in addition three awards will be presented with cash prizes:
Best Overall Entry – $ 250 prize
First Place Color – $ 150 prize
First Place Black & White – $ 150 prize
DEADLINE:
Entry(s) must be received by August 10, 2011
CONDITIONS OF ENTRY:

Entry Fee is nonrefundable for up to (5) prints per entry:
$25.00 members & affiliates, $15.00 for students, and $40.00 non-members
FEE and completed Entry Form MUST accompany all images entered.
Unlimited number of entries.
Subject must have an architectural theme or contain an element of the human-made environment; should be single images not composites or collages made through digital manipulation. Photographic interpretation will be judged, not the architecture. Location of images is unrestricted.
Entries must have been taken and owned by the participant.
Entries preferred in digital format.
Any print entries MUST still include submission of digital images.
Print entires to be 8×10 images mounted on 11 x 14 presentation quality white mat boards (No Foam Core), with the following information adhered to the back of each mounted print:
name, print title, location of image or description.
Digital images must be on CD. Photographs may be originally shot in digital format or may be high resolution scans of 35 mm. Images should be scanned at 300 dpi (ppi) at the final output
size and saved as a JPG or TIFF file, maximum size 10 MB.
Participants grant reproduction rights and permissions to AIA West Jersey to use all submitted images (in either print or electronic form) for organizational calendar, website, exhibition,
publications, fundraising and promotional purposes. All mounted print entries become property of AIA West Jersey.
Submission of entry implies acceptance of all above conditions.
QUESTIONS & INFO:
Contact Kimberly Bunn, AIA – photo@aiawestjersey.org 856-234-7367
Enrty Deadline:
August 10, 2011

  To Enter, click the button above to download our entry form, then complete and mail the form along with entries and check payable to AIA West Jersey to:
AIA-WJ Photo Competition
c/o Ignarri-Lummis Architects
601 Chapel Avenue East
Cherry Hill, NJ 08034
For FedEX & UPS delivery:
OFFice number: 856-428-8877
Weekday deliveries only