AIA West Jersey Membership Meeting – March 18, 2014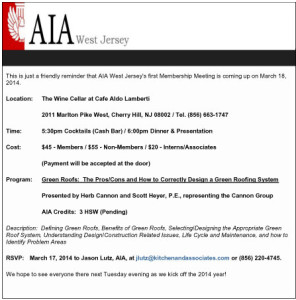 AIA West Jersey's first Membership Meeting for 2014 is coming up on March 18.  This meeting will be held at The Wine Cellar at Cafe Aldo Lamberti in Cherry Hill.  Cocktail and Social Hour begins at 5:30 pm followed by dinner and a guest speaker at 6:00 pm.
Our guest speakers will be Herb Cannon and Scott Heyer of the Cannon Group, who will be speaking on the topic "Green Roofs: The Pros/Cons and How to Correctly Design a Green Roofing System.  This is a great opportunity to get AIA credits and learn more about the benefits of green roofs, understanding their design/construction and how to identify problems.
See you there!