It is time to get to work.
AIA West Jersey is seeking members to join our Board of Directors in 2019.
AIA West Jersey serves as your voice in state issues affecting the architectural profession. As a volunteer organization, the Officers and Trustees on the Board of Directors serve one or two year terms, ideally continuing on in other capacities and culminating as President. The continuity of the Board allows the Board members to learn from their predecessors, making the transition easier and allowing for an efficient operation of the Chapter.
Serving on the AIA West Jersey Executive Committee is a great avenue for professional development. Nowhere else in our profession will you get the opportunity to affect how architecture is practiced in New Jersey. You will also become part of the AIA New Jersey [AIANJ] representation as AIA works on a national scale for the betterment of our profession. It may seem humbling to have this opportunity; however, your voice is exactly what is needed, regardless of your professional status. Board members ideally will include a full range of member voices; principals of larger firms, project managers, single practitioners, and emerging professionals. All that is required is a desire to improve the architectural profession.
---
AIA West Jersey Board of Directors is composed of the following positions:
President
President-elect
Treasurer
Secretary
AIANJ EPiC Section Director (pending By-Laws change)
Immediate Past President
and
Three (3) appointed Trustees.
With the exception of the office of President and Immediate Past President, all positions are eligible to receive nominations from the general membership for service the following year.
In 2019, AIA West Jersey is specifically seeking interest in the Treasurer, EPiC Section Director and Trustee positions.
---
2019 Position Descriptions:

Treasurer: Minimum One year term. Responsibilities: attend monthly executive board meetings, exercise general supervision of the financial affairs and keep the records and books of account of this Chapter; prepare the budgets, collect amounts due this Chapter, and give receipts for and have the custody of its funds and monies and make all disbursements of funds; have custody of its securities and of its instruments and papers involving finances and financial commitments; conduct the correspondence relating to the office.
Secretary: One year term. Responsibilities: attend monthly executive board meetings and keep minutes of the proceedings, coordinate with AIA NJ for AIAWJ event publication notice, update membership roster & coordinate with AIA NJ, assist the president and president elect with newsletters & email blasts, and publish relevant AIA information on AIA West Jersey social media outlets.
EPiC Section Director [Emerging Professionals Community]: One year term. Responsibilities: attend monthly executive board meetings, serve as the conduit between AIA NJ EPiC and AIA West Jersey through a monthly teleconference and assist the executive board with developing & planning Emerging Professional events (social, networking, educational).
Trustee: One year term. Responsibilities: attend monthly executive board meetings or teleconferences and assist the executive board with developing & planning general membership meeting topics.
President-elect: One year term. Responsibilities: attend monthly executive board meetings, perform all the duties of the President in the event of the absence of the President or of the President's disability, refusal, or failure to act. The nominee for President-Elect shall have served at least one (1) year as an Executive Officer of the Chapter within no more than two (2) years prior to nomination.
---
We encourage you to become involved and help shape your local AIA Component – no previous board experience is required, with the exception of the President-elect.
Interested candidates should email a brief statement of interest (500 words maximum) to Mark Barone, AIA at westjerseyaia@gmail.com or mail a written statement of interest to P.O. Box 4015, Cherry Hill, NJ 08034.
Please reach out if you have any questions about getting more involved with AIA West Jersey. We look forward to hearing from you!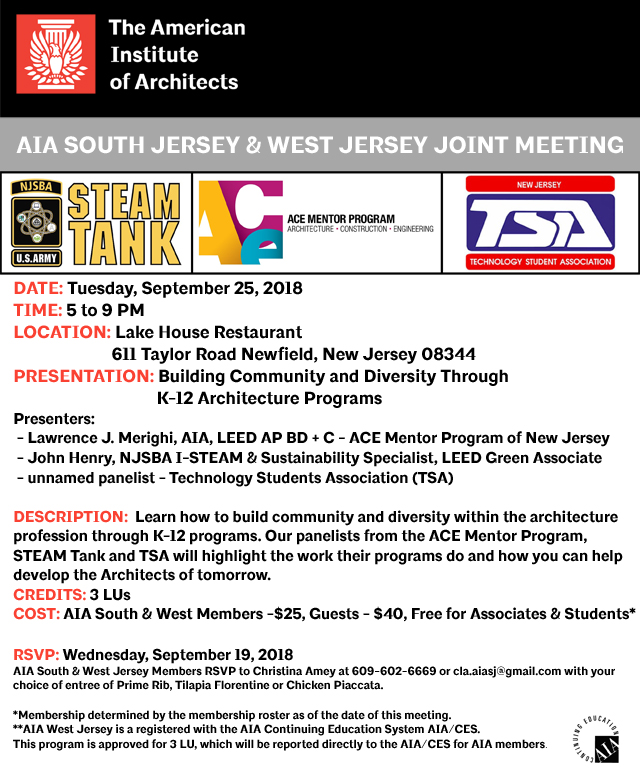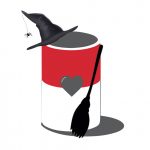 JOIN US FOR THE 4th CANSTRUCTION PENNSAUKEN EVENT!
ORGANIZED BY AIA WEST JERSEY & AIA SOUTH JERSEY TO BENEFIT THE FOOD BANK OF SOUTH JERSEY
Help us 'scare hunger away' on October 19th at the Moorestown Mall! During their 'Thriller Night' events.
WHO: Teams of Architects, Engineers, Contractors, Designers and Students [attending Schools or Architecture, Engineering, or Design].
WHAT: Design and build structures entirely from canned foods to fit within a 10' wide x 10' long x 8' high space.
WHEN
3 Aug – Call for Entries Released
7 Sept – Deadline for Entry 5:00pm [form, check and email]
14 Sept – Deadline to Submit Concept Sketches [email]
28 Sept – Deadline to Submit Signage Text [email]
16 Oct – Cans delivered to venue [10am – 7pm]
18 Oct – Build Night 3pm – Midnight
19 Oct – Judging & open to public as part of Thriller Night [5-9pm]
2 Nov – Awards Ceremony & De-Canstruction [5:30 – 7:30pm]
WHERE: Moorestown Mall, 400 NJ-38m Moorestown, NJ 08057
Official Rules, Regulations & Entry Form: 2018CanStruction-Pennsauken
Please pass this information along to anyone who may be interested in participating as a team or an event sponsor. Do not hesitate to reach out with any questions!
The 2019 Conference on Architecture and Design will be held in Las Vegas!
AIA National is hosting two separate calls for proposals, one for sessions, which closes August 1, and one for workshops, which closes October 30.
During the first round of review, they will evaluate how well proposals reflect emerging trends, new ideas, engaging learning, and knowledge level in support of our curricular framework.
Proposals that advance to the second round will be evaluated for learner outcomes, speaker expertise, attendee value, and 2018 speaker scores, where applicable.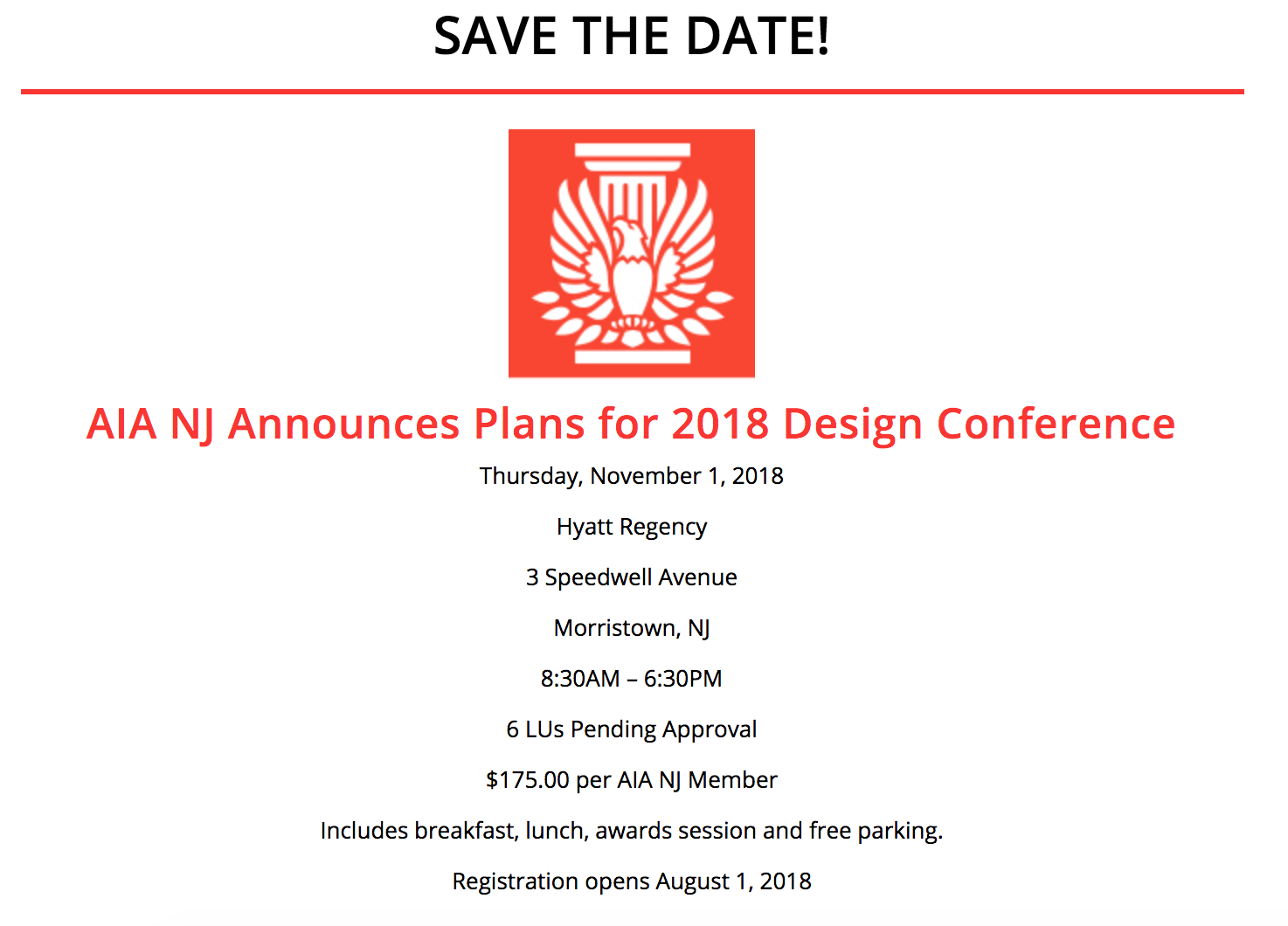 Help us 'Scare Hunger Away' during Thriller Night at Moorestown Mall!
October 18 – Build Day
October 19 – Public Vote & Structure Judging
Official Call for Entries to be released soon. Sponsorship opportunities available
For more information email: westjerseyaia@gmail.com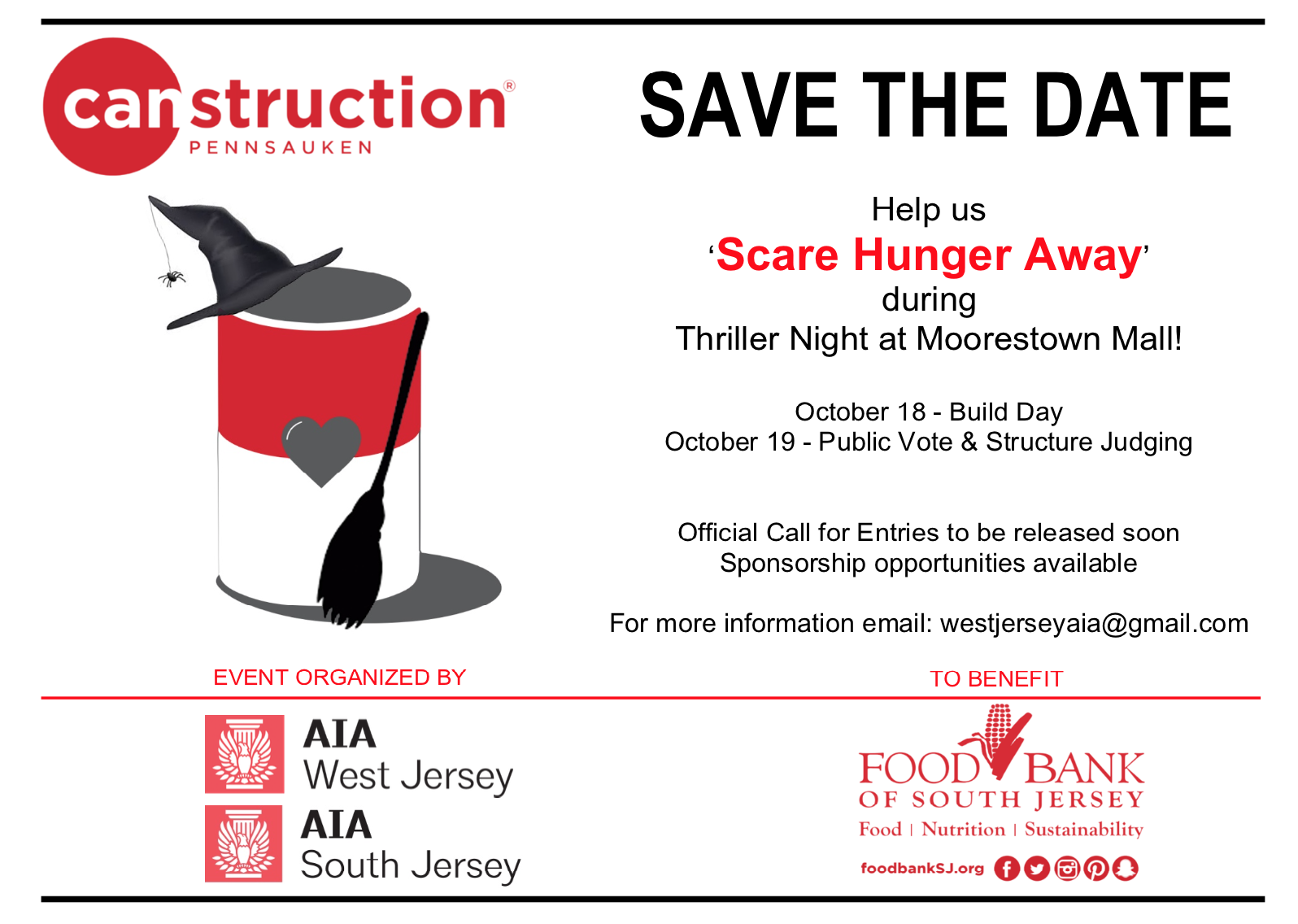 June 14 | 6:00 pm | Mini Golf Social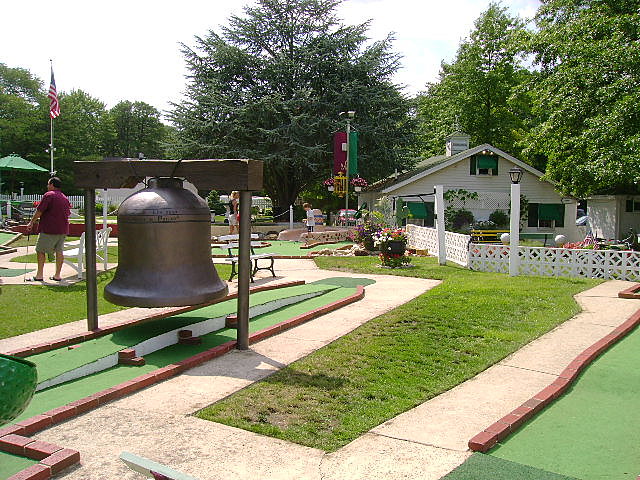 WHAT: Join us for a round of mini-golf as we wrap up the first half of 2018! All are welcome to attend.
WHEN: Thursday, June 14 at 6:00pm (rain date TBD)
WHERE: Pleasant Valley Mini Golf
93 NJ-73, Voorhees, Township NJ
Registration via ticket leap: aia-west-jersey.ticketleap.com/2018-mini-golf-social/
RSVP: Lauren Harris, Assoc. AIA lauren.m.harris@outlook.com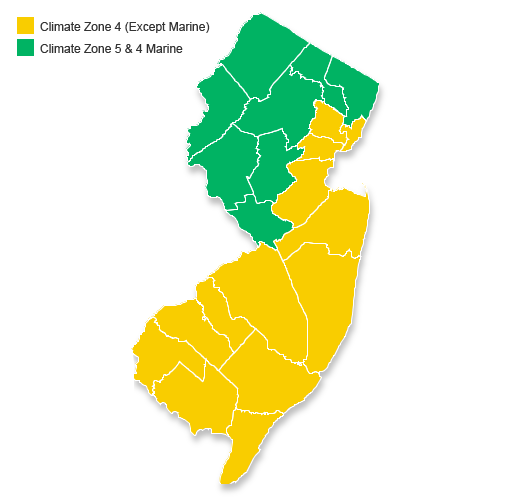 Meet the Allied Members Mixer and NJ Residential Energy Code Seminar
June 7th | 5:30 – 8:30 pm | Moorestown Community House
Come out to celebrate our allied members on June 7th! This event will feature a 'speed dating' style networking hour followed by a CEU presentation focusing on the NJ Residential Energy Code – Update to 2015 IECC.
Attendees will recieve 3 HSW CEU's
Register or RSVP: by June 5th
Register online via: aia-west-jersey.ticketleap.com/meet-our-allied-members-mixer/
RSVP to westjerseyaia@gmail.com
Online Registration Fees: Associate AIA – $15, AIA – &25, Guest / Non-AIA – $35 (door payment is $5 more for each bracket)
Location:
Moorestown Community House
16 E Main St
Moorestown, NJ 08057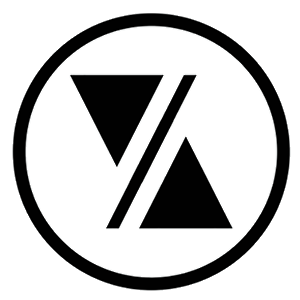 GETTING STARTED WITH THE ARE
WHAT: Getting Started with The ARE is all about beginning your journey toward being a licensed architect, including how to avoid pitfalls, and how to take first steps. Mike Riscica, AIA, CSI share valuable insights from his own failures and mistakes, as well as what he has learned by helping over 300 ARE Candidates get started on this process.
WHEN: Tuesday, May 22th
6pm to 8pm
COST: FREE!
Emerging professionals, Associate AIA members, AIA members and non-AIA members are all welcome to attend. Please RSVP by May 20th for the venue's headcount.
LOCATION: Kitchen & Assocaites
756 Haddon Avenue
Collingswood, NJ 08108
Close to Patco
Google maps directions are HERE.
[Venue Sponsor]
[Speaker Sponsor]
[Food & Beverage Sponsor]
DETAILED LECTURE DESCRIPTION:
After working 40 hours a week, raising the kids, and managing life's responsibilities, who has time to study 8+ hours a week for the Architect exam?!??

The most valuable resource for every ARE Candidate is time.

Often, the hardest part is just getting started and taking the first steps with taking the ARE, which can feel overwhelming.

Getting Started with the ARE Lecture is a beginner/intermediate ARE lecture, which is designed to:
1. Bring more clarity to this process.
2. Get attendees thinking about taking the first steps.
3. Reexamining their approach to studying.
Success with the ARE is possible—if you have an honest outlook about the terrain ahead, and a willingness to use the tools & practices outlined in this lecture.

In this lecture, you will learn:
How the exam has recently been updated, explained in a way that is easy to understand and why you should care about the old exam.
The #1 thing that will determine your success on the ARE. The answer might surprise you.
How success in architecture school has nothing in common with success on the Architect exam (and why that matters).
The Top 5 completely avoidable mistakes that are repeatedly made by most ARE Candidates.
How to study effectively—while working 40 hours, raising kids, and managing life's responsibilities.
How to quickly resolve many of the issues, struggles, and challenges surrounding the Architect exam, and start enjoying the process of getting better at the craft of practicing architecture.
Over the past 2.5 years, Michael Riscica from YoungArchitect.com has helped over 300 ARE Candidates figure out how to juggle their already busy lifestyles, and start making massive progress on the Architect Exam.

In this lecture, he shares the lessons he's learned from his personal experience—and from helping so many people get past the ARE, and move into the next phase of their lives as Licensed Architects.
Do you want t

o integrate resilience into the design services your firm offers?
AIA West Jersey members, many of our clients and communities reside in regions that are affected by resilience and adaptation issues. Learn more about these topics and better serve the public and your clients by registering for the new AIAU Exclusive Resilience & Adaptation Series of courses.
This exclusive ten-course series covers mitigation, resilience and adaptation, technical design application, and design process application. Take all ten courses to learn best practices for mitigating risk for hazards, shocks, and stresses and adapting to changing conditions. Perfect for midcareer architects.
More courses coming soon!
The AIA Resilience and Adaptation Online Series is developed by the AIA as part of the resilience and adaptation initiative.