The 2018 AIA West Jersey Photography Competition is accepting submissions for it's 13th annual event. This competition is open to the public, as well as AIA members. Please share with friends and family.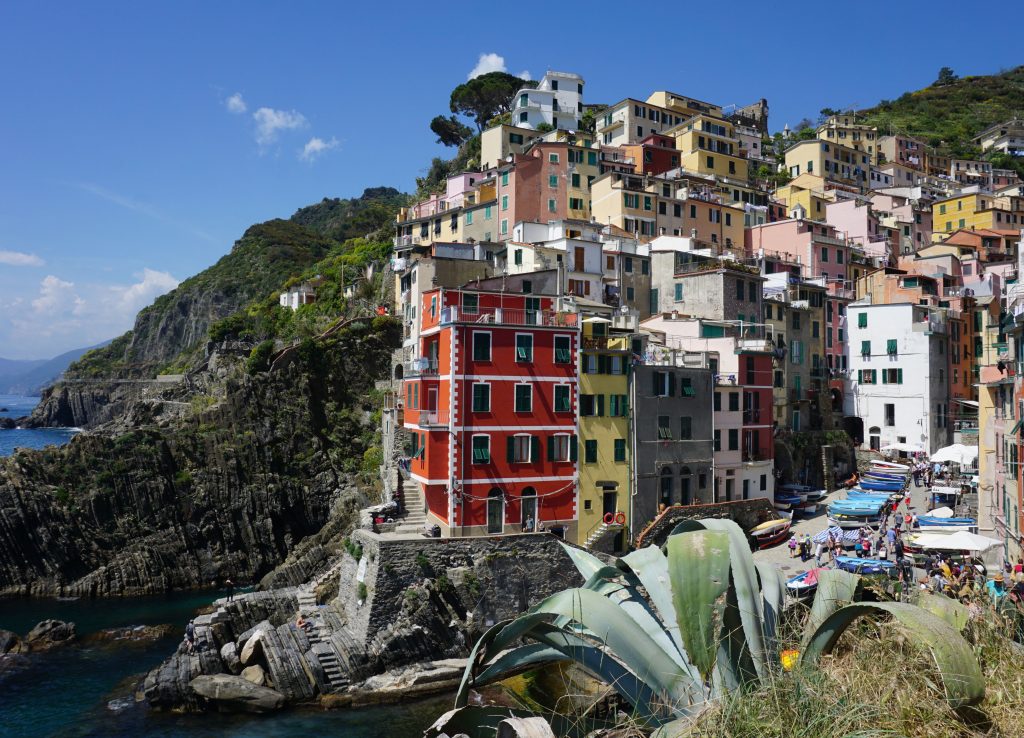 Photo Credit: Robert Auld, AIA | Rio Maggiore

Winning entries will be used in the AIA West Jersey 2019 Calendar that will be distributed to members and affiliates. Images of the winning entries may be shown at AIA-WJ events held and online/social media channels. Three cash awards from the winning entries will also be presented.
Full Photography Competition and Entry Form are available below.
2018 Competition and Entry Form
Good luck from AIA West Jersey!
AIA West Jersey will host a General Membership Dinner on May 10th. This event will feature a code seminar by Robert Austin from NJ Department of Community Affairs on the Rehabilitation Subcode.
RSVP today to reserve your spot. Pre-register for this event via TicketLeap and save
Thank you to our event sponsors: Garland Industries, Inc. and Diversified Lighting Associates,Inc. Learn more about these companies and all our Allied Members at our website.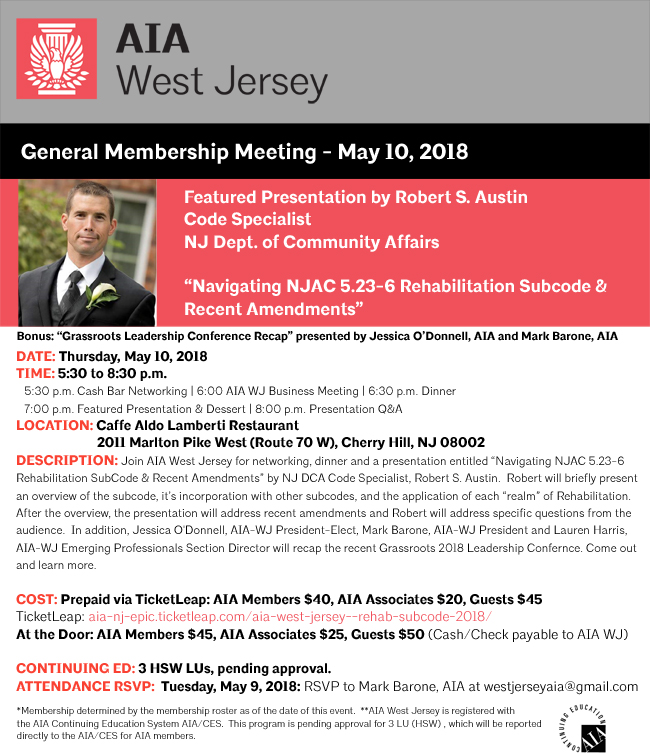 AIA West Jersey members have the opportunity to attend this event hosted by AIA WJ Allied Member: DuBell Lumber Company.
Please consider attending and supporting our Allied Members.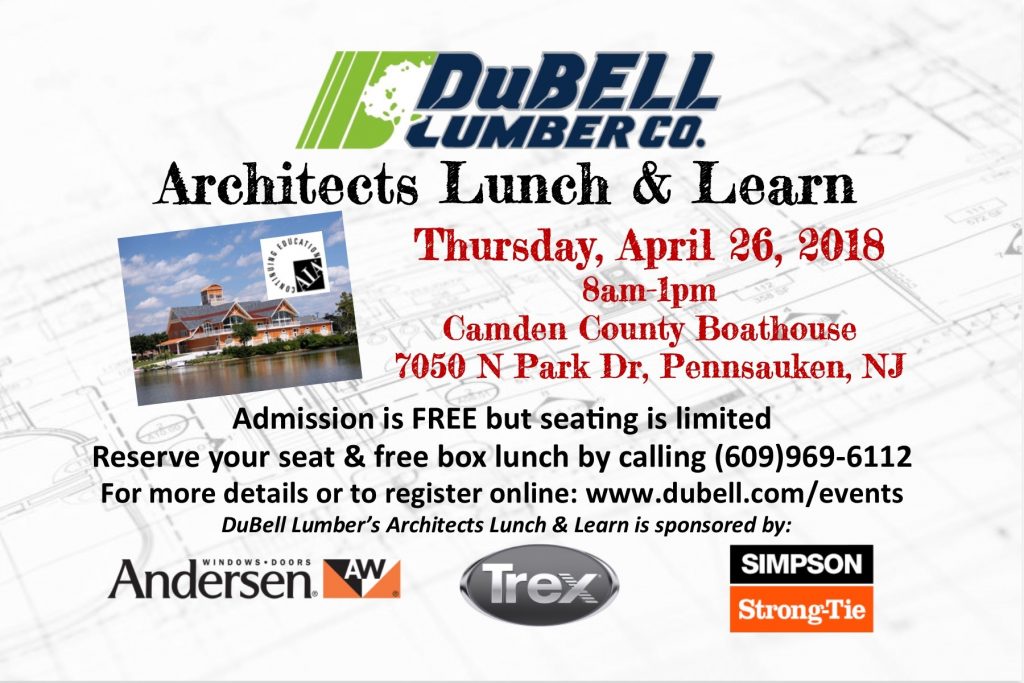 ---
The DuBell Lumber Company Hosting April 26th AIA-Credit Architects Lunch & Learn at the Camden County Boathouse.
Medford, NJ – Thursday, April 26th, 2018, from 8am-1pm.
The DuBell Lumber Company of Southern New Jersey will host the second of its four Architects Lunch & Learn AIA-credit events scheduled for 2018.
The event will be held at the Camden County Boathouse in Pennsauken, 7050 N. Park Drive, right on the banks of the Cooper River and just off of Route 70.
The DuBell Architect Lunch & Learn educational events are open to all architects and is free to attend.
Earn 3 HSW AIA Continuing Education Credits. The April event will offer three seminars.
Attendance at each seminar will earn one (1) AIA HSW Health, Safety, and Welfare credit. A total of three (3) credits may be earned at this event.
Program details:
8:00am-8:30am Registration, morning refreshments
8:30am-12:00pm Scheduled presentations:
Window Code Fundamentals
Presented by Andersen Windows (AIA West Jersey Allied Member)
Latest Developments in Wood Alternative Decking
Presented by Trex
Deck Building 101
Presented by Simpson Strong-Tie
12:00-pm-1:00pm Box Lunch – Participants are encouraged to stay, eat lunch & network.
Admission to this event is free, however seating is limited so we ask that participants pre-register.
Architects may register online or by calling Michelle Lennox at The DuBell Lumber Co. (609) 969-6112.
To register online, go to The DuBell Lumber Company website Events page:
https://www.dubell.com/events/
Serving the region since 1922, The DuBell Lumber Company is your Building Materials Solution Provider. Visit us online at www.dubell.com

---
Learn more about AIA West Jersey Allied Members at our website: https://aiawestjersey.org/allied-members/

---
Are you an ARE candidate or a licensed Architect looking to have a night of fun?
Join us on 4/12 for an evening of trivia at 'The Tap Room.' Attendees will earn (2) HSW credits for participating in our ARE Trivia night. AIA Members from any section as well as non-AIA members are welcome to attend.
Please RSVP to Lauren.M.Harris@outlook.com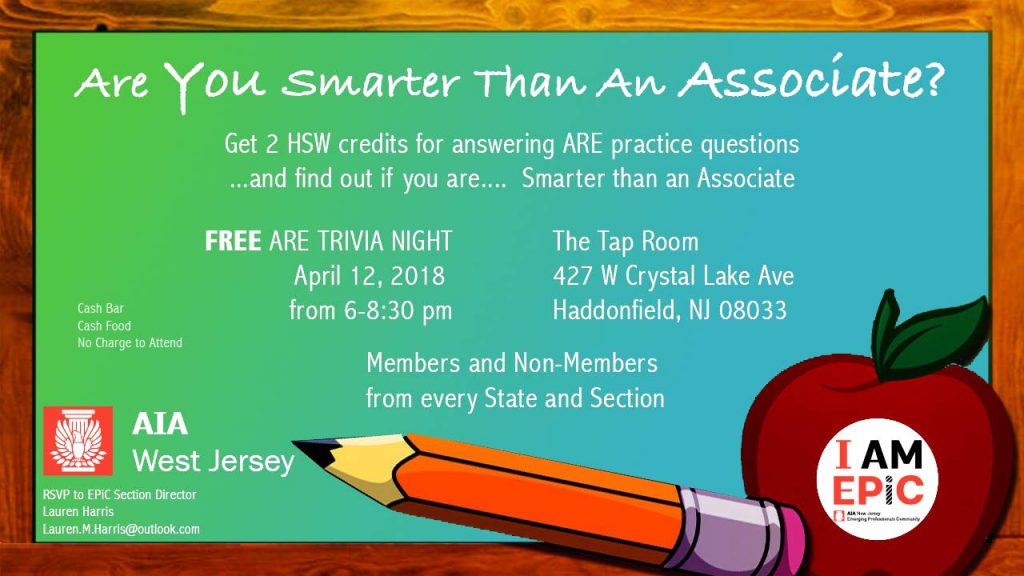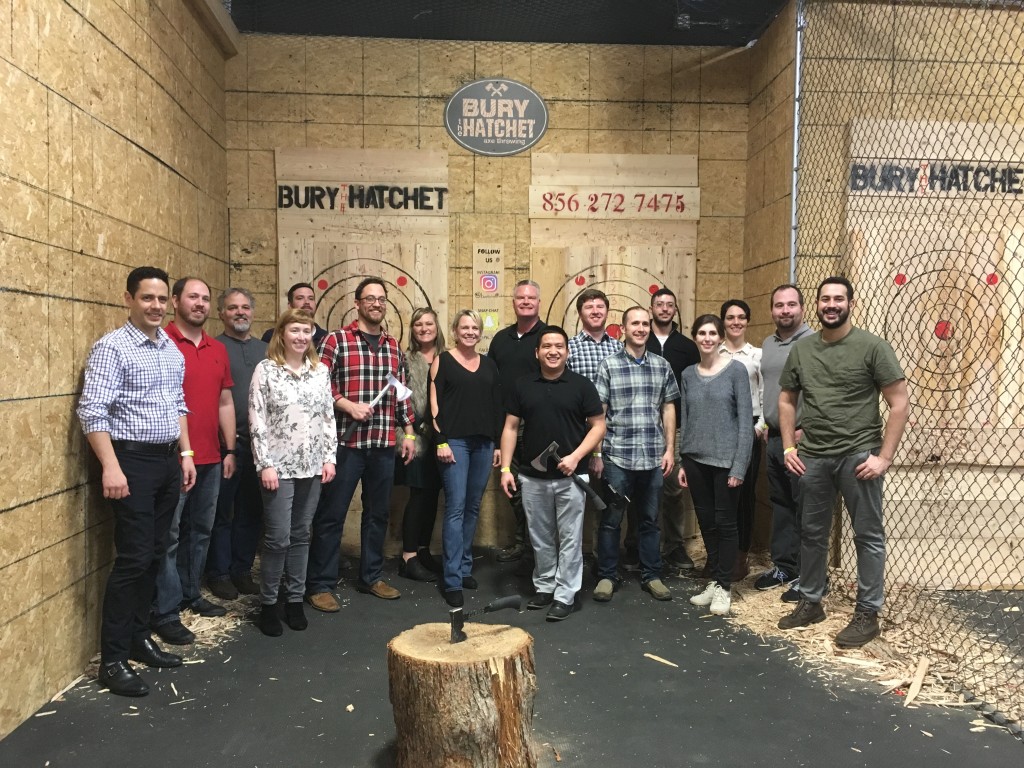 On February 15, 2018, Emerging Professionals (EPs) from AIA West Jersey and AIA Philadelphia came together to discuss upcoming events and volunteer opportunities for EPs in 2018.  The group of roughly 20 participants learned to throw axes from the skilled masters at Bury the Hatchet in Cherry Hill, NJ.  After a round robin tournament to determine seating, architects competed in a single elimination tournament.
During the event, attendees engaged the event sponsor Won-Door Corporation in conversation and enjoyed the provided food and beverages.  Thank you to Sean Hilgeman and Courtney Watson, for supporting AIA West Jersey.
This social event was a great start to the 2018 Emerging Professionals calendar.  Stay tuned for upcoming events featuring ARE Prep and more fun socials.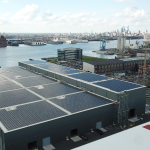 Join us on Saturday, March 17, for a tour of Holtec International's Krishna P. Sign Technology Campus with presentations by Holtec and the design archtiect.
Pre-registration is required by 3/10  aia-nj-epic.ticketleap.com/aia-west-jersey—holtec-building-tour/
A valid photo ID must be brought for security clearance. Parking is available on site.
SCHEDULE:
9:00 – 9:30 am  Arrival, Security Check-in
9:30 – 12:30 Presentations, Discussion & Tour
MORE INFORMATION:
The Krishna P. Singh Technology Campus was developed by HTC, LLC, a wholly owned subsidiary of Holtec International. The Campus occupies approximately 50 acres of the land on the left bank of the Delaware river in south Camden where the famed New York Shipyard (now a major cargo port operated by the South Jersey Port Authority) once stood.
The Krishna P. Singh Technology Campus consists of two large manufacturing plants, a seven story corporate engineering center, a system test facility (without nuclear fuel), and support installations like a training center, non-destructive testing laboratory, and corporate apartments. All shops, laboratories, and facilities within the Campus are state-of-the-art. In particular, the manufacturing plant is configured to incorporate the latest in fabrication machinery and information management software to enable precision manufacturing of large and complex weldments (definition: A unit formed by welding together an assembly of pieces.)
Join us for an EPiC event on Thursday 2/15.
All are welcome to attend! Bring your friends, co-workers, non AIA members and allied design professionals.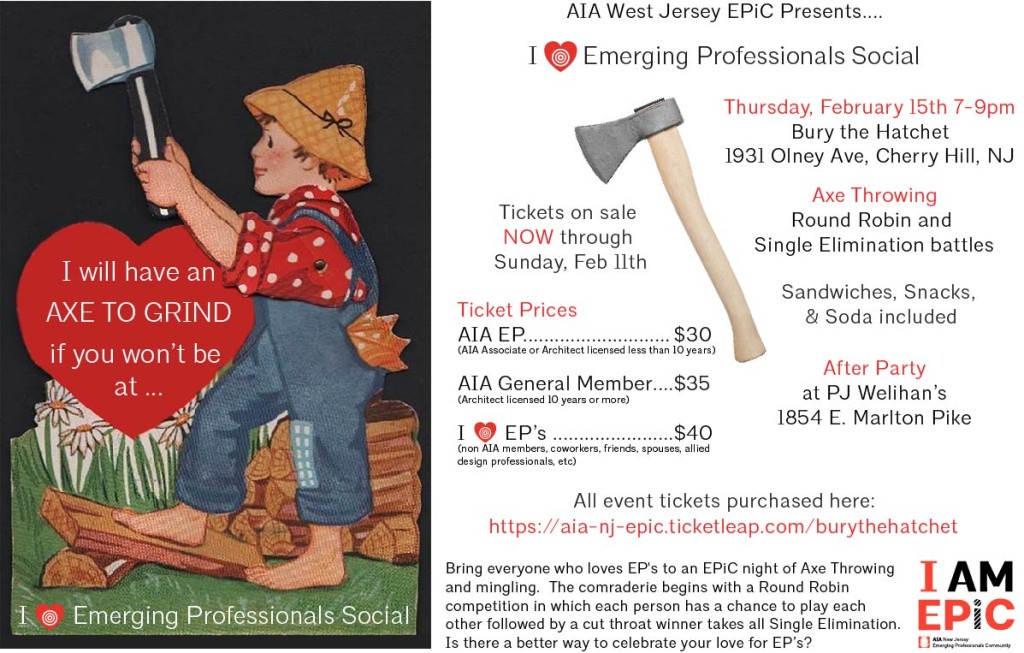 Visit https://aia-nj-epic.ticketleap.com/burythehatchet/ for more information and to register.
Note: the venue does not allow walk-in's. All participants must purchase a ticket in advance. Deadline for ticket sales is 2/11.
Mark your Calendars for the 2018 AIA WJ Inaugural Event and General Membership meeting on January 11, 2018 beginning at 6:00pm at the Markeim Arts Center in Haddonfield. Additional Details to follow. We look forward to seeing you there!
Business of Architecture – Basic Certificate Starts Jan. 2018
The multi-tiered Micro-MBA in Architecture program program kicks off with two certificate programs to help prepare Architects and Construction Professionals with limited or no business training to enter the Micro-MBA executive program in late 2018. The Business of Architecture Basic Certificate will be offered Jan. – Feb. 2018. Details about The Business of Architecture Advanced Certificate will be available soon. Each of the certificate programs will be five weeks in duration and provide background training to help ensure the candidates success. Classes will be taught by a combination of Temple University Professors and licensed AIA Architects at the Temple Center City Campus.
Registration for the Business of Architecture Basic Certificate is now open! Details on this exciting program are outlined below.
You can earn up to 15 AIA CEUs with the Fall 2017 Basic Certificate! Register for one or take all five courses.
Project management for Architects | 3 LU/HSW
Collaborative Communication & Leadership | 3 LU/HSW
Managing the Firm | 3 LU
Accounting for Architects | 3 LU
Intellectual Property & digital Design | 3 LU/ HSW
Have questions? Reach out to us at westjerseyaia@gmail.com
AIA West Jersey invites you to join us November 28 for networking seminar featuring a presentation entitled Historic Rehabilitation, Window Solutions presented by Fritz Winterle of Marvin Windows & Doors.  Gourmet sandwiches, other light fare and beverages will be available.  The event has been approved for 3 LU/HSW.  In addition to the continuing education program and networking, attendees will cast votes for 2018 component officers.
RSVPs are requested by Friday, November 24 to Mark Barone, AIA at westjerseyaia@gmail.com.  Full event details below:
---
Featured Presentation: Historic Rehabilitation: Window Solutions
Date: November 28, 2017
Time: 6 – 9 p.m.
Location: Camden County Boathouse, 7050 N Park Drive, Pennsauken Township, NJ 08109
CEU: 3 LU/HSW
Cost: $30 AIA Members and Guests / $20 AIA Associate Members
RSVP: Mark Barone, AIA at westjerseyaia@gmail.com by Nov. 24, 2017