Over the years, AIA West Jersey [AIAWJ] has been serving its members by providing quality continuing education programs, field trips, social outings and general meetings for professional camaraderie. We are currently looking for members to get involved with our Executive committee for 2018.
AIA West Jersey serves as your voice in state issues affecting the architectural profession. As a volunteer organization, the officers on the Executive Committee serve one or two year terms, continuing on as other capacities and culminating as President. The continuity of the Board allows the Board members to learn from their predecessors, making the transition easier and allowing for an efficient operation of the Chapter.
Serving on the AIA West Jersey Executive Committee is a great avenue for professional development. Nowhere else in our profession will you get the opportunity to affect how architecture is practiced in New Jersey. You will also become part of the AIA New Jersey [AIANJ] representation as AIA works on a national scale for the betterment of our profession. It may seem humbling to have this opportunity; however, your voice is exactly what is needed, regardless of your professional status. Board members include project managers and single practitioners, to principals of larger firms. All that is required is a desire to improve the architectural profession.
AIA West Jersey is pleased to announce the proposed 2018 Slate of Officers:
President:                        Mark Barone, AIA
Past President:               Jason Lutz, AIA
Vice President:               Jessica O'Donnell, AIA
Treasurer:                       Troy Harris, AIA, LEED AP
Secretary:                        Open Position
AIANJ EPiC Liasion:      Open Position
Trustee:                           John Glaviano, AIA
Trustee:                           Dave Lummis, AIA
Trustee:                           Open Position
Trustee:                           Open Position
2018 Open Position Descriptions:
Secretary: Two year term. Responsabilities: attend monthly executive board meetings and keep minutes of the proceedings, coordinate with AIA NJ for AIAWJ event publication notice, update membership roster & coordinate with AIA NJ, assist the president and president elect with newsletters & email blasts, and publish relevant AIA information on AIA West Jersey social media outlets.
EPiC Section Director [Emerging Professionals Community]: One year term. Responsibilities: attend monthly executive board meetings, serve as the conduit between AIA NJ EPiC and AIA West Jersey through a monthly teleconference and assist the executive board with developing & planning Emerging Professional events (socail, networking, educational).
Trustee: One year Term. Responsibilities: attend montly executive board meetings and assist the executive board with developing & planning general membership meeting topics.
We encourage you to become involved and help shape your local AIA Component – no previous board experience is required. Interested candidates should email a brief statement of interest (500 words maximum) to Mark Barone, AIA at westjerseyaia@gmail.comor mail a written statement of interest to P.O. Box 4015, Cherry Hill, NJ 08034. All statements of interest must be recieved by end of business on October 30, 2017.
Please reach out if you have any questions about getting more involved with AIA West Jersey. We look forward to hearing from you!
AIA Grassroots 2017 – A Leadership Conference – Washington D.C.
Conference Recap by Mark Barone, AIA – 2017 AIA WJ President 
The 2017 Grassroots conference is attended annually by the leaders of AIA National, State and Local Components and offers the opportunity to learn about how the Institute operates and its agenda for the coming year.  Attendees also meet and discuss programming ideas with AIA leaders from Components across the country at a number of networking sessions and interactive seminars.  This year, I was fortunate to attend as the representative from AIA West Jersey.  New Jersey as a whole was well represented with members from each of the state's six sections in attendance.  Not only did we attend, but AIA NJ and WJ Emerging Professionals hosted a seminar on "Building an Emerging Professionals Network" at this national conference.
Wednesday, the delegation from New Jersey met for its Regional Meeting and heard reports from Bruce Turner, AIA, the New Jersey Regional Representative on the AIA National Strategic Council and AIA New Jersey President, Ben Lee, AIA.
Thursday kicked off a full day of presentations, briefly summarized below:
Design Impact Matters: Architects Shape Lives, Opportunities and Challenges for the Profession.
Carl Elefante, FAIA, AIA First Vice President, challenged architects to position ourselves and the profession for success by addressing two mandates.  First, to proactively plan for growth to accommodate the anticipated population boom from 7 to 10 billion people in the lifetimes of today's practicing architects.  Second, to substantially reduce or even eliminate human causes of climate change resultant from the building sector.
Keynote Speakers: Dr. Joan Clos, Executive Director, United Nations Human Settlement Program & Peter Calthorpe, Architect, Urban Designer and Urban Planner.
Dr. Joan Clos spoke to conference attendees via video about the recently held Habitat III Conference, held every 20 years, where member nations engage in discussions regarding housing and sustainable urban development.
Peter Calthorpe shared highlights from 30+ years of work that reflect global trends towards New Urbanism planning principles.  Mr. Calthorpe emphasized towns and cities with a diverse users and uses, streets focused on the pedestrian scale that promote human interactions, and built to be environmentally sustainable.
Archi-Talks: Rapid Fire TED-style Talks on Key 21st Century Issues
Conference attendees were treated to four consecutive talks on key issues for cities in the century ahead. The four presentations were: Walkable Cities, by Jeff Speck; Heritage Cities, by Jean Carroon, FAIA; Resilient Cities, by Michael Berkowitz; and 21st Century Cities, by Thomas Dellessio. After the talks members selected one of four break-out sessions on each topic to attend for further discussion and analysis.  The discussions were facilitated by members of the Strategic Council, and attendees' responses will be complied and reported out to membership later this year.
Networking Lunch
Members received information regarding a number of grants available to components and the Component Excellence Awards were announced.  One particular program was organized by AIA Phoenix, entitled Arizona Kids Build, where K-8 students learned about the process of architectural design over the course of several weeks by designing and building a model of their our shade shelter guiding by AIA Architect members.
Leadership Workshops 1 & 2
After lunch, attendees selected two leadership development workshops.  I was fortunate to attend "Building an Inspiring & Sustainable Practice through Equity, Diversity and Inclusion" and "How to Talk about Architecture with Clients & the Public".  The first seminar was led by Dr. Shirley Davis, who discussed characteristics of winning cultures and tips for effective leadership.  Happy, engaged employees exhibit increased productivity and lower stress.  One memorable quote from the session, "If you are a leader and nobody's following you, you aren't leading, you are just taking a walk".  In the second session, AIA communications staff presented the new AIA Message Book, a document produced from the work of the AIA National Public Outreach Committee.   The book offers guidance for speaking to clients and public in a way that advocates the value of architects and the profession to the public.  I suggest downloading a copy for yourself here: AIA Message Book
Welcome Reception – AIA National Headquarters
In the evening, conference attendees enjoyed some light fare and cocktails while touring AIA National Headquarters.  We met face to face with AIA staff, networked with colleagues and viewed an exhibit featuring designs by emerging professionals.
On Friday, the conference continued with members attending seminars, keynote speeches and presentations as summarized below:
Peer Group Networking Breakfast
Over breakfast conference attendees network with another leaders from similarly sized components.  I had the pleasure of meeting and discussing our local initiatives with leaders from Tampa Bay, Long Beach Austin and Spokane.
Leadership Workshop 3
My final seminar, "Building an Emerging Professional Network", was not only attended by AIA NJ and AIA WJ members, it was presented by us.  AIA NJ Emerging Professional Community (EPiC) and AIA California's Academy for Emerging Professionals (AEP) presented each organization's structure, successes and failures to a packed room of component leaders.  Jessica O'Donnell, AIA WJ Secretary, and AIA NJ EPiC Chair was a featured presenter.
Concluding Session: Keynote, Town Hall and Candidates for National Office
In the final general session, ARCHITECT magazine editor, Ned Cramer moderated a panel discussion with the candidates for national office: 2018-2020 At-large Director (one to be elected) Emily Grandstaff-Rice, FAIA and Daniel S. Hart, FAIA, and 2018-2019 Treasurer Patrick Panetta, AIA.
During the Town Hall, questions submitted from members prior to the conference, as well as inquiries from the members in attendance were addressed by Institute Leaders: Thomas Vonier, FAIA, AIA President, Carl Elefante, FAIA, AIA First Vice President, Heather Koury, Hon. AIA, CACE President, Robert Ivy, FAIA, AIA Chief Exectuive Officer, and Jason Winters, AIA, Moderator Strategic Council.
Mayor Catherine Pugh of Baltimore gave the final keynote address, calling on architects to get involved in city planning and team up with elected officials to use their unique problem solving skills to improve communities.  Mayor Pugh discussed her work with AIA Batlimore to realize the Baltimore Design School, a new community school offering students an education in architectural, fashion and product design while providing public meeting spaces for the surrounding community.
Get Involved!
If you have made it this far, you may be a good candidate for leadership in the local component.  I encourage you to start small and ask your local AIA component leaders to help organize a meeting, or take RSVPs.  Then jump in on a Committee, or take on another leadership role in an area you are passionate about.  Email us at westjerseyaia@gmail.com to begin developing your leadership skills today.  Maybe it will be you that gets to represent AIA West Jersey at Grassroots in the years to come!
Respectfully submitted,
Mark Barone, AIA – 2017 President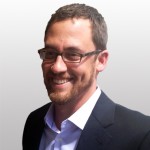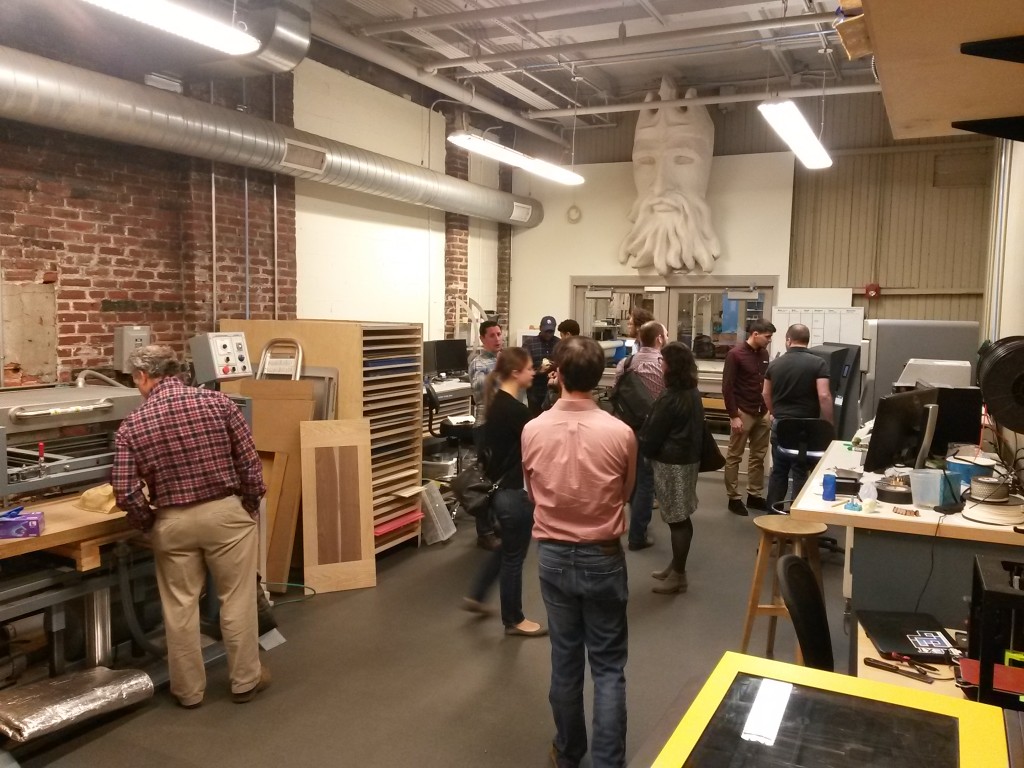 On Friday February 24th, the AIA-West Jersey Emerging Professionals Community (EPiC) observed "Tech Month", by taking a guided tour of NextFab, a local co-working facility and "maker-space" that provides technology training, production equipment and automated fabrication expertise to start-ups and creatives. The event was well attended, and included representatives of AIA-WJ, Philadelphia Emerging Architects (PEA) and the Philadelphia chapter of the National Organization of Minority Architects (PhilaNOMA). We were also joined by the project architect of the facility Jackie Gusic, AIA of Inhabit Architecture & Design, who provided insight into the background and design of the project, an adaptive reuse of a warehouse located among the building supply stores on Washington Avenue in South Philadelphia.
Eric Kaplan, Business Development Manager of NextFab, directed our tour and demonstrated the architectural applications of their digital automated production equipment. The metal and wood shops located on the main level featured some of the largest pieces of machinery, including water-jet and plasma cutters for metalwork, and two CNC mills for composites and wood-based materials. The advantages of 3D scanning for reproductions of architectural artifacts and sculptural objects were evident from the CNC milled prototypes that Mr. Kaplan presented. Afterwards, we toured the upper level which included the 3D printing and laser-cutting studio, where we had the chance to observe a 3D printer in action, creating a prototype of an architectural extrusion.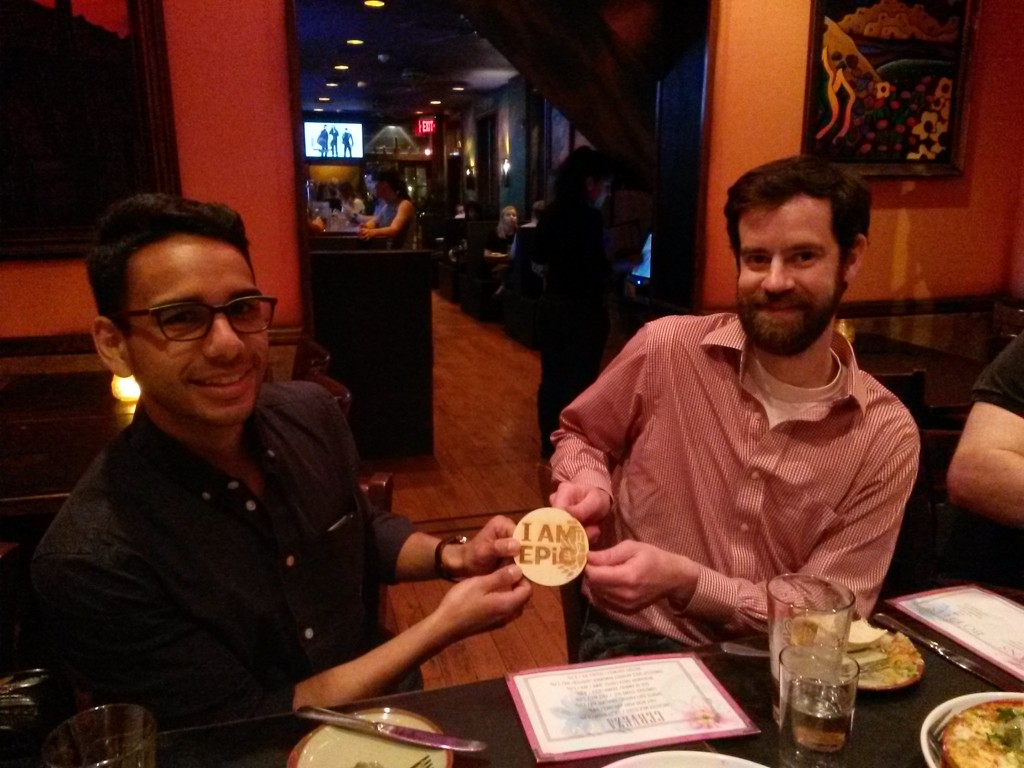 After the tour, the group headed to nearby Los Camaradas restaurant to enjoy some Mexican cuisine and discuss upcoming events and opportunities for professional development. By the end of the night a lucky participant was awarded a door prize custom laser-etched by NextFab, a plywood medallion emblazoned with the "I AM EPiC" logo. Thank you to all who participated to make this event a success!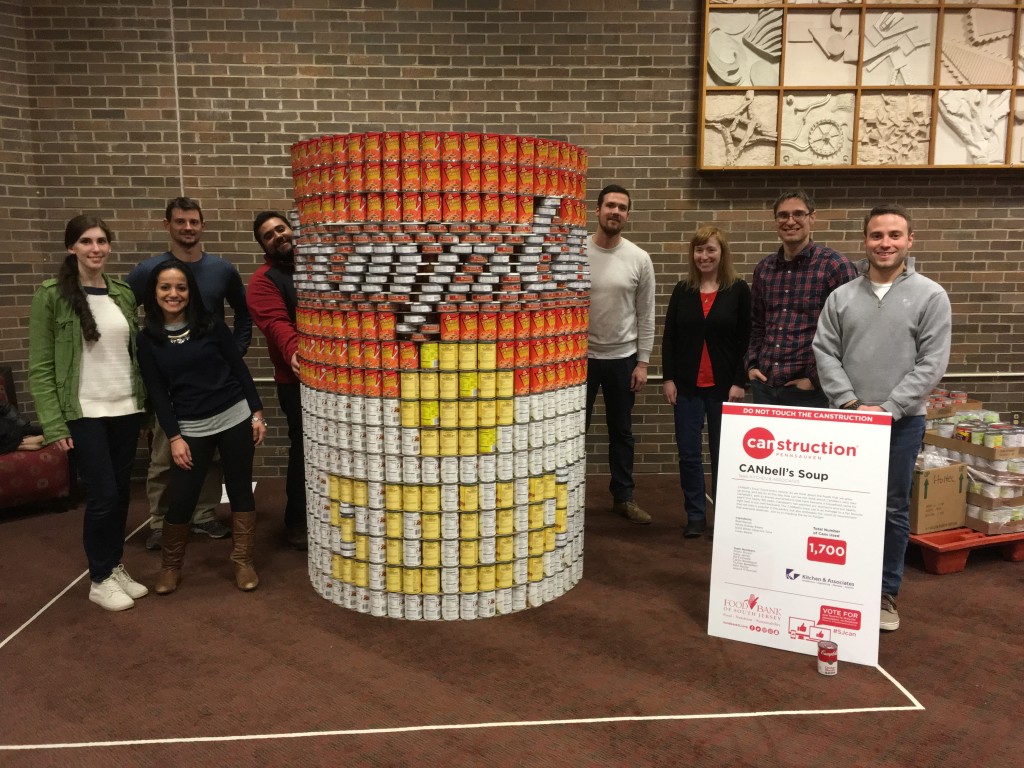 The CANstruction Pennsauken 2017 Awards Reception was held this past Wednesday, February 22, 2017 at the Rutgers University Camden Campus. A panel of judges — including local architects, dietitians, community activists and representatives from the Food Bank of South Jersey — voted on categories including Most Cans, Structural Ingenuity, Best Meal, Best Use of Labels, and Best Original Design. In addition to these categories, there was a sixth award that was judged solely by the Food Bank of South Jersey representatives titled, Food Bank Favorite.
AIA West Jersey sponsored team, Kitchen and Associates, took home the "Food Bank Favorite" trophy for their "CANbell's Soup" CANstructure. Measuring in at over 6 feet tall, 4 feet in diameter, and containing a total of over 1,700 cans, the design resonated with Food Bank representatives for its ties to Campbell's Soup in Camden and being such a well-loved food by so many people. Although simple in shape, the detailing of the "Campbell's" lettering was applauded.
AIA West Jersey seeks to sponsor this event on an annual basis. This year's event resulted in 13,461 cans of food donated to the Food Bank of South Jersey. If you or your firm are interested in potential sponsorship of your team, or if you would like to organize a AIA West Jersey team in 2018, please contact us at: westjerseyaia@gmail.com.
For additional information about the Food Bank of South Jersey, please visit their website: http://foodbanksj.org/
AIA West Jersey will host the next General Membership Meeting and Dinner Seminar on March 15th at Caffé Aldo Lamberti in Cherry Hill, NJ.
The evening will feature a presentation on Applying Swedish Innovations in Residential Construction Systems, by Gregory LaVardera, AIA.
Architects are witnessing a significant increase in the energy efficiency code requirements for our housing. The best way to meet these new requirements is not always clear. For insight we can turn to Sweden where they underwent a similar revolution in the 1970s. Today, with 40 years of good practice behind them Sweden has efficient solutions to most of our energy efficiency demands. Because Sweden and the US share a tradition of wood framed housing, their techniques can be readily adopted and suggest a way forward for us in North American.
Save the Date: Tuesday, March 15, 2016
Please join us for the upcoming meeting between AIA South Jersey and West Jersey where you will learn how to use social media and Houzz to promote your Architectural Firm.
Event details below:
DATE: Tuesday, September 29, 2015
TIME: 5 to 9 PM
LOCATION: Annata Wine Bar, 216 Bellevue Ave., Hammonton, NJ 08037. (609) 704-9797
PRESENTATION: Using Social Media and Houzz to Promote Your Business
Presenter: Michael Stein of Houzz, Inc. Website: www. houzz.com
DESCRIPTION: In this course, we will review the steps that you need to take to set up a profile on Houzz and maximize your exposure on the platform. Houzz is the world's leading resource for homeowners looking for inspiration and ideas for their next home remodeling project. With 20 million monthly visitors, most of whom are homeowners, Houzz has become an important tool for residential trade professionals to showcase their work and get client leads. Houzz is a completely free tool for trade professionals.
CREDITS: 3 LU Pending**
Note: This is an interactive program. Please bring you laptops, tablets or other devices where you can set up your own Houzz profiles. Free Wifi will be available.
COST: AIA South & West Members -$20. Guests – $35. Free for Associates, Interns & Students*
ATTENDANCE & DINNER CHOICE RSVP: Friday, September 25, 2015.
AIA South & West Jersey Members RSVP to Bruce Turner, AIA at (856) 405-0351 or bdtaia@aol.com with your choice of Chicken Milanese, Eggplant Tower or Prime Rib.
*Membership determined by the membership roster as of the date of this meeting.
**AIA West Jersey is a registered with the AIA Continuing Education System AIA/CES.
This program is pending for approval for 3 LU, which will be reported directly to the AIA/CES for AIA members.
Attention AIA-West Jersey Committee of Emerging Professionals in Architecture (CEPA) Group:
NCARB recently announced, the Intern Development Program (IDP) will no longer require elective hours as of July 1, 2015.  The IDP will require 3,740 total hours defined by the existing 17 experience areas.
Additional Information is available from the NCARB website.
Be sure to check for updates with NCARB as the transition continues. Questions can be directly to NCARB Customer Service team at (202) 879-0520 or customerservice@ncarb.org.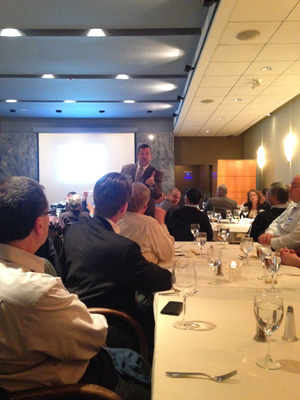 AIA-West Jersey kicked off the 2015 General Meetings on March 31st with the 2015 International Building Code Seminar at Caffe Aldo Lamberti in Cherry Hill. If you were in attendance, thank you for supporting the event. If you were unable to attend – you missed a lot!
John Terry, Building Code Official / Representative of the New Jersey Department of Community Affairs gave a lively, interactive presentation highlighting the major changes between the current 2009 New Jersey IBC/IRC and the 2015 New Jersey IBC/IRC that will be adopted in June of this year. Despite having to reschedule the meeting due to snow from the original February date, the meeting was a tremendous success drawing over eighty (80) design and construction professionals.
AIA-West Jersey hopes you will help us keep this momentum going by attending our next meeting on Tuesday, April 21, 2015 at 5 p.m. The meeting is a joint event hosted by AIA-South Jersey at the Avalon Links Restaurant in Cape May Courthouse, NJ. Meeting details will be forwarded shortly via email. To RSVP, please contact Bruce Turner, AIA at (856) 405-0351 or bdtaia@aol.com by Friday, April 17, 2015.
Additionally, AIA-WJ would like to notify the membership of these future events: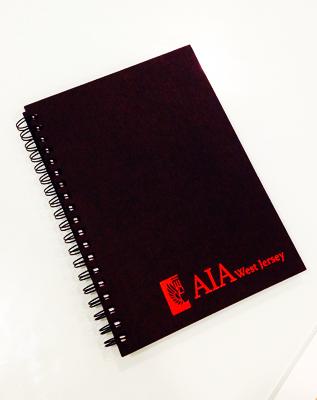 AIA-WJ Committee for Emerging Professionals in Architecture (CEPA): April 25, 2015, AIA-WJ will host Barry Bannett at the Cherry Hill Public Library for a presentation and discussion on Construction Site Visits: Architect's Role and Responsibilities. This program is geared towards Associate AIA members, Interns, ARE candidates and Architects licensed 10 years or less. Principals are encouraged to send firm staff members to attend this valuable presentation. Please RSVP to Mark Barone, AIA at (856) 429-0868 or markb@markbaronearchitect.com by April 23rd.
CSI Philadelphia: April 30 – May 3, 2015, Mid Atlantic Regional Conference, Concordville, PA. The conference will explore the theme of "Detailing Innovation" intended to explore innovative changes that will impact the construction industry in the near future.  Presentations and tours will offer AIA Continuing Education Credits.  Contact David Stutzman, AIA at dstutzman@conspectusinc.com for more information.
AIA-WJ General Membership Meeting, May 7, 2015. Save the Date for AIA-West Jersey's next Dinner Meeting. Presentation topic and meeting location to be determined, stay tuned for additional details.
AIA National Convention: May 14-16, 2015, Atlanta, GA. Our immediate past AIA New Jersey Regional Director, Jerome (Jerry) L. Eben, AIA, announced his candidacy for member at large to the new AIA National Board of trustees. There are 5 candidates running for 3 positions. The election will take place at the National Convention. It is very important to AIA New Jersey to make every attempt to have a representative on the new National Board. Delegates to the National Convention elect the candidates. Therefore, if you know anyone from other regions or components around the country, please request their support for Jerry.
BIM Seminar: May 19, 2015. AIA-South Jersey has partnered with Atlantic Cape Community College to offer a new continuing education course entitled: Building Information Modeling (BIM) & Legal Issues Facing New Jersey Design Professionals. This full day course offers 6 AIA/CES LU/HSW CSE Hours (approvals pending), breakfast and lunch, all for a reduced rate of $149.00 for current AIA members. Contact Bruce Turner, AIA at (856) 405-0351 or bdtaia@aol.com for additional program details.
East Coast Green: June 22, 2015. AIA New Jersey plans to hold the East Coast Green Conference this year. The location will be NJIT in Newark, NJ. Watch the AIA New Jersey website aia-nj.org, or contact Jason Kliwinski, AIA by email at designs4life.jason@gmail.com for more information.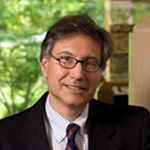 AIA-West Jersey would like to announce the appointment of Quinn de Menna, AIA to the AIA Design for Aging (DFA) Advisory Group.  The eight (8) member national leadership board advocates for innovative design and shares research findings with professionals via the AIA DFA Knowledge Community, to promote quality of life and superior environments for an aging society.  Quinn de Menna, AIA is currently Director of Architecture at Alberto & Associates, Inc. located in Haddonfield, NJ, and a frequent attendee of AIA-WJ sponsored events.  Mr. de Menna has participated in efforts such as the AIA Design For Aging ADA Task Force and presented at national Senior Living Conferences including Leading Age Annual Meeting, American Society on Aging, Pioneer Network and others; on topics ranging from Dining Trends to Accessible Toileting and Bathing.    AIA-WJ is honored to have one of its members represented on this national board.
Visit to the West Jersey Architect download page. The West Jersey Architect is an exclusive publication for members of the AIA West Jersey Chapter. Download the current issue of  the West Jersey Architect below.
2014-07 AIAWJ Newsletter.8.1.14