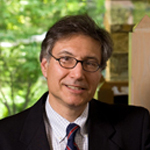 AIA-West Jersey would like to announce the appointment of Quinn de Menna, AIA to the AIA Design for Aging (DFA) Advisory Group.  The eight (8) member national leadership board advocates for innovative design and shares research findings with professionals via the AIA DFA Knowledge Community, to promote quality of life and superior environments for an aging society.  Quinn de Menna, AIA is currently Director of Architecture at Alberto & Associates, Inc. located in Haddonfield, NJ, and a frequent attendee of AIA-WJ sponsored events.  Mr. de Menna has participated in efforts such as the AIA Design For Aging ADA Task Force and presented at national Senior Living Conferences including Leading Age Annual Meeting, American Society on Aging, Pioneer Network and others; on topics ranging from Dining Trends to Accessible Toileting and Bathing.    AIA-WJ is honored to have one of its members represented on this national board.
Members from AIA-West Jersey joined leaders from AIA Chapters throughout the United States on March 4-6, 2015 in Washington, DC for the 41st annual AIA Grassroots Leadership and Legislative Conference.  The annual conference provides leadership workshops, networking events and advocacy opportunities for attendees.  Face-to-face meetings with peers from across the country and direct conversations with our legislators are just some of the opportunities provided to boost advocacy for the profession and a better future for architects. Read more
Visit to the West Jersey Architect download page. The West Jersey Architect is an exclusive publication for members of the AIA West Jersey Chapter. Download the current issue of  the West Jersey Architect below.
2014-07 AIAWJ Newsletter.8.1.14
Dear AIA West Jersey Members,
Meet up with fellow AIA members to learn about the rebuilding process for the Jersey Shore following Superstorm Sandy as well as the Repositioning of AIA and its impacts on the architecture profession.  A cocktail hour, dinner and raffle will be held and 3 CEU's will be offered.  The Louis Goettelmann Award will also be presented to a member of the AIA-WJ chapter for service to the Chapter.  The cost is $20 per member, free for Interns & AIA-Associates and $35 for non-members.  RSVP to Jim DelGrosso at j.delgrosso@comcast.net by September 15. For more information, check out the graphic below.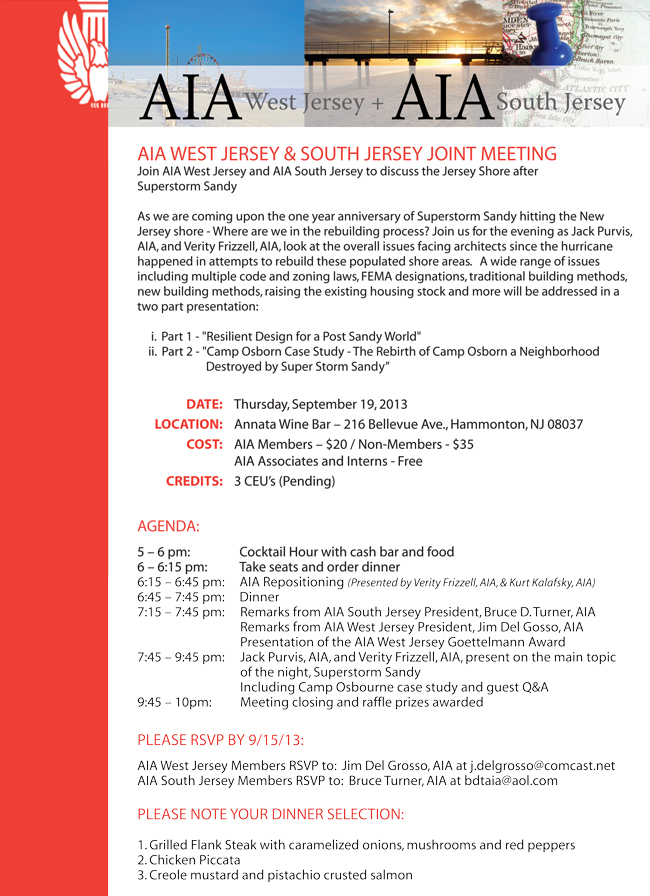 AIA West Jersey Volunteers Help Rebuild a Local Playground
On Saturday, April 30, members of AIA West Jersey assisted in a community service project of rebuilding a playground at Fullerton Park in Moorestown, NJ.
AIA West Jersey's Kyle Ryan, Fifth Year student at Tulane University, is awarded top scholarship by the AIA New Jersey Scholarship Foundation
The 2011 AIA New Jersey Scholarship Awards were presented at the 2012 AIA New Jersey Inaugural Banquet and Kyle Ryan of Voorhees, New Jersey, was awarded the top scholarship by the AIA New Jersey Scholarship Foundation.
Kyle Ryan is a part of the AIA West Jersey Section & Region.
All of AIA West Jersey would like to say Congratulations!
The AIA New Jersey Scholarship Foundation Inc. maintains a program of scholarship grants to qualified architectural students from New Jersey or attending architecture school in New Jersey for the purpose of recognizing scholastic achievement, demonstrated talent, and potential for success in the profession of Architecture. Financial need is also a consideration for the award of scholarship funds. It is noted that funds for the program come from contributions and fundraising efforts of AlA New Jersey members, interested sources in the construction industry, and private individuals located in New Jersey.
To All AIA West Jersey Associates & Interns:
 
This coming Saturday, February 5, 2011, we are having our first monthly Associate/Intern Committee Meeting of the year at the Cherry Hill Library from 9:30am to 12 noon. The focus of this meeting is on IDP & you.  The meeting will include a presentation by Nicole De Candia, LEEDap, Associate AIA, AIA-NJ IDP Coordinator 2011-2014.  Nicole will be discussing all of the recent changes to IDP & the IDP Process with an added focus on "supplementary education units," which in essence are hours one can earn while unemployed.  This meeting is very informal and we are expecting to have a lot of group discussion, so please take the time before Saturday morning to organize and prepare your thoughts/questions for Nicole.  Also, feel free to bring any of your personal IDP information to the meeting because Nicole will be answering any questions and/or specific topics that you may have regarding the latest version of IDP & the IDP process.
 
We would like to get a head count prior to Saturday morning so please contact either Bob O'Reilly, AIA or Jim Del Grosso, AIA, before the end of the day Friday, February 4, 2011, if you will be in attendance.
 
Thank you and we will see all of you this Saturday morning!
February 1, 2011 – A Message From Our President