Help us 'Scare Hunger Away' during Thriller Night at Moorestown Mall!
October 18 – Build Day
October 19 – Public Vote & Structure Judging
Official Call for Entries to be released soon. Sponsorship opportunities available
For more information email: westjerseyaia@gmail.com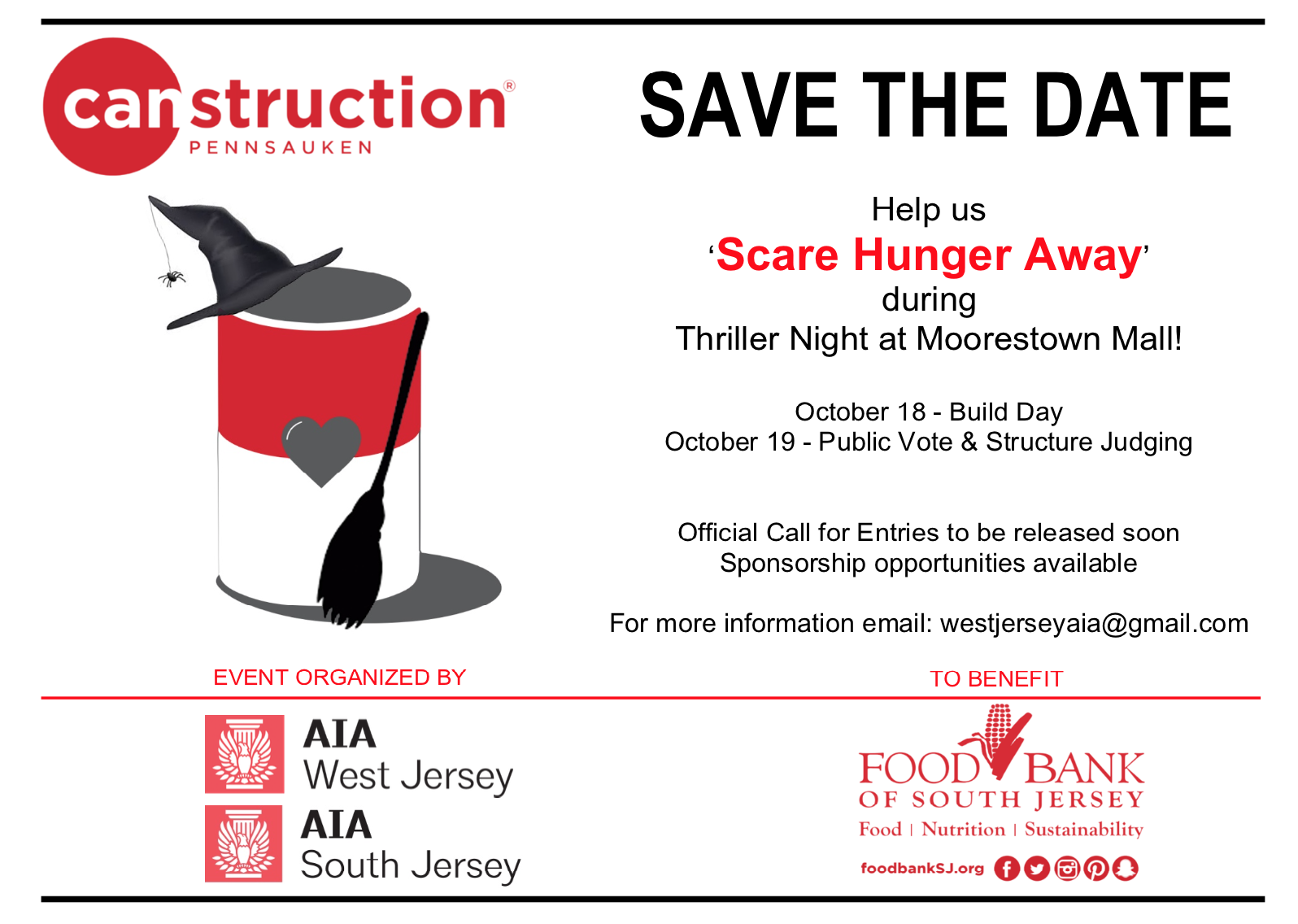 AIA West Jersey will host a General Membership Dinner on May 10th. This event will feature a code seminar by Robert Austin from NJ Department of Community Affairs on the Rehabilitation Subcode.
RSVP today to reserve your spot. Pre-register for this event via TicketLeap and save
Thank you to our event sponsors: Garland Industries, Inc. and Diversified Lighting Associates,Inc. Learn more about these companies and all our Allied Members at our website.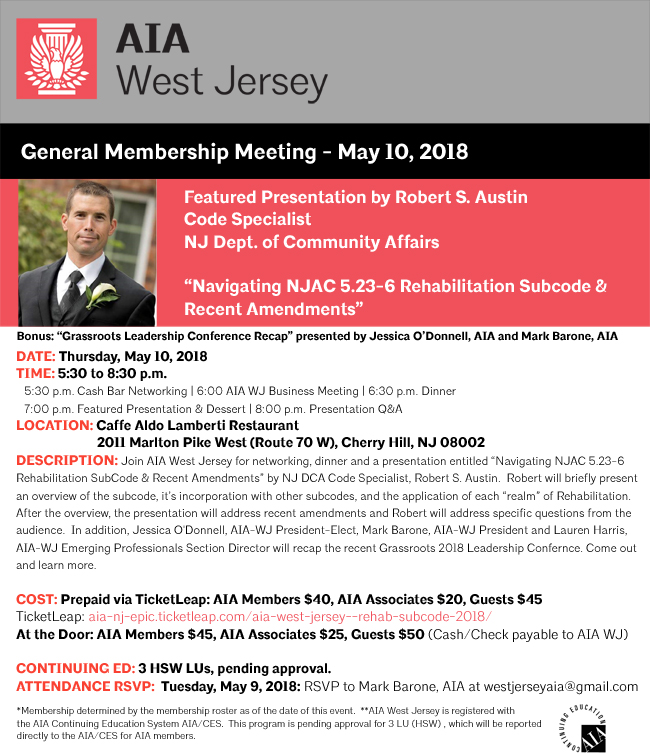 Join us for an EPiC event on Thursday 2/15.
All are welcome to attend! Bring your friends, co-workers, non AIA members and allied design professionals.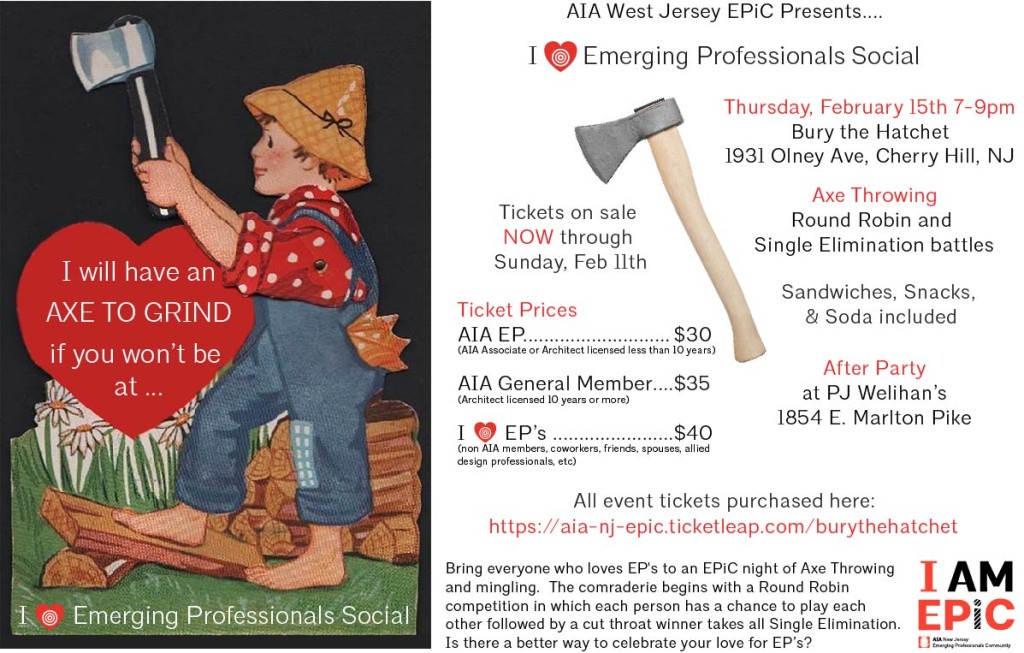 Visit https://aia-nj-epic.ticketleap.com/burythehatchet/ for more information and to register.
Note: the venue does not allow walk-in's. All participants must purchase a ticket in advance. Deadline for ticket sales is 2/11.
Mark your Calendars for the 2018 AIA WJ Inaugural Event and General Membership meeting on January 11, 2018 beginning at 6:00pm at the Markeim Arts Center in Haddonfield. Additional Details to follow. We look forward to seeing you there!
Business of Architecture – Basic Certificate Starts Jan. 2018
The multi-tiered Micro-MBA in Architecture program program kicks off with two certificate programs to help prepare Architects and Construction Professionals with limited or no business training to enter the Micro-MBA executive program in late 2018. The Business of Architecture Basic Certificate will be offered Jan. – Feb. 2018. Details about The Business of Architecture Advanced Certificate will be available soon. Each of the certificate programs will be five weeks in duration and provide background training to help ensure the candidates success. Classes will be taught by a combination of Temple University Professors and licensed AIA Architects at the Temple Center City Campus.
Registration for the Business of Architecture Basic Certificate is now open! Details on this exciting program are outlined below.
You can earn up to 15 AIA CEUs with the Fall 2017 Basic Certificate! Register for one or take all five courses.
Project management for Architects | 3 LU/HSW
Collaborative Communication & Leadership | 3 LU/HSW
Managing the Firm | 3 LU
Accounting for Architects | 3 LU
Intellectual Property & digital Design | 3 LU/ HSW
Have questions? Reach out to us at westjerseyaia@gmail.com
AIA West Jersey invites you to join us November 28 for networking seminar featuring a presentation entitled Historic Rehabilitation, Window Solutions presented by Fritz Winterle of Marvin Windows & Doors.  Gourmet sandwiches, other light fare and beverages will be available.  The event has been approved for 3 LU/HSW.  In addition to the continuing education program and networking, attendees will cast votes for 2018 component officers.
RSVPs are requested by Friday, November 24 to Mark Barone, AIA at westjerseyaia@gmail.com.  Full event details below:
---
Featured Presentation: Historic Rehabilitation: Window Solutions
Date: November 28, 2017
Time: 6 – 9 p.m.
Location: Camden County Boathouse, 7050 N Park Drive, Pennsauken Township, NJ 08109
CEU: 3 LU/HSW
Cost: $30 AIA Members and Guests / $20 AIA Associate Members
RSVP: Mark Barone, AIA at westjerseyaia@gmail.com by Nov. 24, 2017
The holiday season is upon us and although we are all very busy, many of us are looking for ways to give back to those less fortunate.
AIA West Jersey has recently become aware of a local community organization in need of design assistance. The Angels Community Outreach, located in Pitman, New Jersey, manages a storefront to provide clothing and necessities to people in need at no-cost. They are currently looking for a volunteer Architect to donate his or her time to convert an existing residential use to a commercial use.
If you are in a position to offer design assistance, or are interested in learning more about the organization, please visit their website https://angelsofgod.org and reach out to Elissa Darrow at The Angels Community Outreach for more information.
Elissa Darrow: 856-625-8652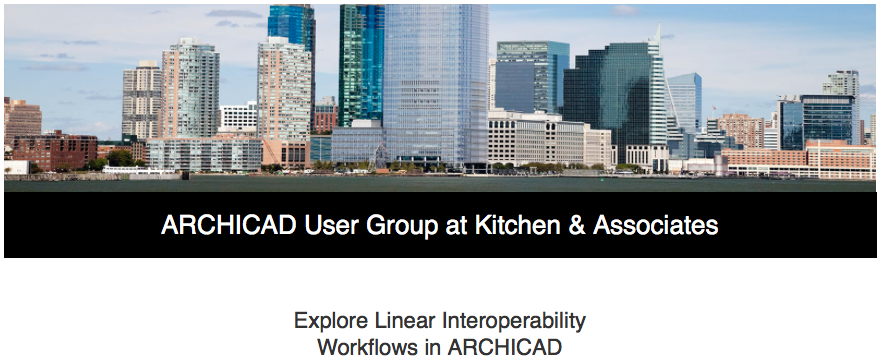 Join us Thursday, 11/16 at the office of Kitchen & Associates for an evening of informal BIM education and networking!
Zoltan Toth, Intl. Assoc. AIA from Graphisoft will explore the ARCHICAD, BIMx, Twinmotion, and Rhino/Grasshopper workflow. Learn how to deploy these software applications to work within one database, increase your productivity, mitigate risk, and deliver a more profitable product. Network with students from local universities (Drexel & Temple) as well as AIA members from AIA West Jersey and AIA South Jersey. If you have been thinking of growing your business, deploying new strategies or want to get out of the 'fragmented workflow' rut, this is a can't miss event! Open to all. RSVP today at the link below!
November 16 | 6:00pm – 9:00 pm | ARCHICAD User Group | Kitchen & Associates Office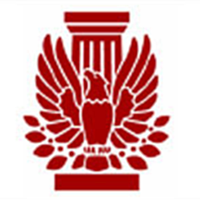 Now in it's 12th year – the AIA West Jersey Photography Competition has opened public voting period to select the top images of this years finalists.    Voting ends November 1, 2017.
Go to the website to place your vote for your favorite.
As in years past, many great architectural images were submitted from photographers around the country.  A panel of jurors narrowed the entries to the finalists in the public voting portion of the competition.   All of the public votes and juror votes will be tallied to decide the top three images that received cash awards and the cover photograph on the 2018 printed wall calendar.
Many Thanks to our 2017 jurors:
– Mark Barone, AIA
AIA West Jersey President
– Bruce Turner, AIA
AIA New Jersey Regional Representative
– Brandon Warshofsky, AIA
AIA New Jersey Regional Associate Director
Join us at Caffe Aldo on October 24 for a presentation on Passive House. RSVP by 10/19. Attendees will receive 3 HSW and 3 GBCI credits.