Building Tour: Holtec International – March 17th, 2018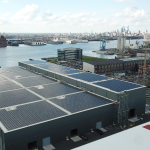 Join us on Saturday, March 17, for a tour of Holtec International's Krishna P. Sign Technology Campus with presentations by Holtec and the design archtiect.
Pre-registration is required by 3/10  aia-nj-epic.ticketleap.com/aia-west-jersey—holtec-building-tour/
A valid photo ID must be brought for security clearance. Parking is available on site.
SCHEDULE:
9:00 – 9:30 am  Arrival, Security Check-in
9:30 – 12:30 Presentations, Discussion & Tour
MORE INFORMATION:
The Krishna P. Singh Technology Campus was developed by HTC, LLC, a wholly owned subsidiary of Holtec International. The Campus occupies approximately 50 acres of the land on the left bank of the Delaware river in south Camden where the famed New York Shipyard (now a major cargo port operated by the South Jersey Port Authority) once stood.
The Krishna P. Singh Technology Campus consists of two large manufacturing plants, a seven story corporate engineering center, a system test facility (without nuclear fuel), and support installations like a training center, non-destructive testing laboratory, and corporate apartments. All shops, laboratories, and facilities within the Campus are state-of-the-art. In particular, the manufacturing plant is configured to incorporate the latest in fabrication machinery and information management software to enable precision manufacturing of large and complex weldments (definition: A unit formed by welding together an assembly of pieces.)