CANstruction – Food Bank of SJ – February 10, 2017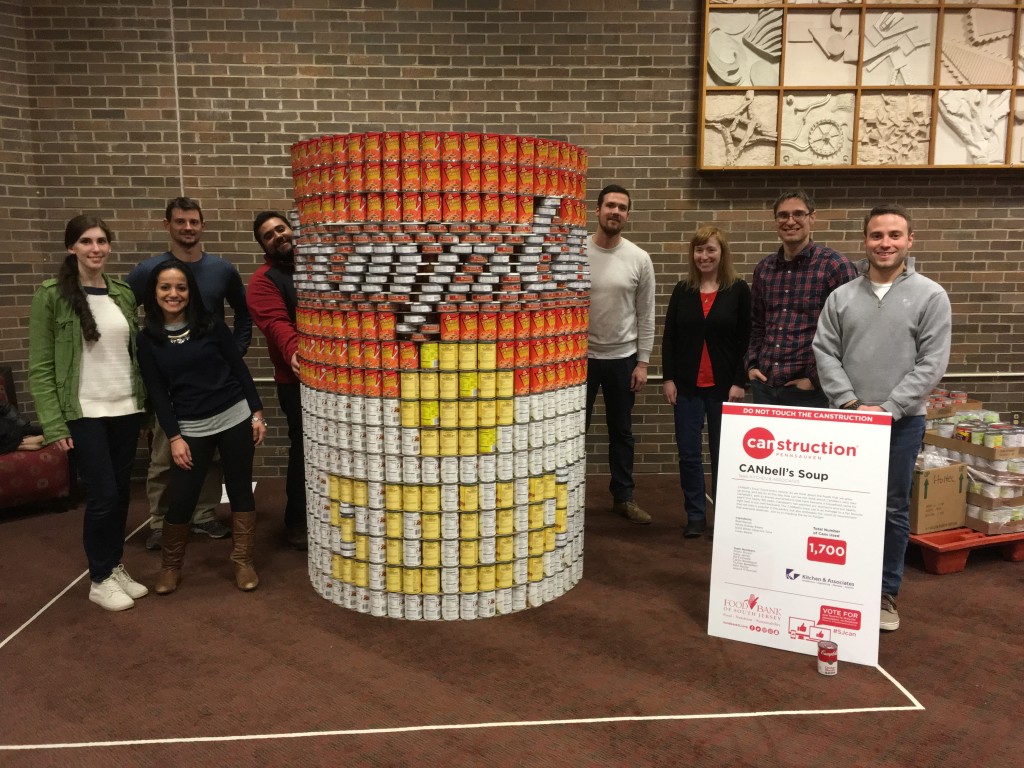 The CANstruction Pennsauken 2017 Awards Reception was held this past Wednesday, February 22, 2017 at the Rutgers University Camden Campus. A panel of judges — including local architects, dietitians, community activists and representatives from the Food Bank of South Jersey — voted on categories including Most Cans, Structural Ingenuity, Best Meal, Best Use of Labels, and Best Original Design. In addition to these categories, there was a sixth award that was judged solely by the Food Bank of South Jersey representatives titled, Food Bank Favorite.
AIA West Jersey sponsored team, Kitchen and Associates, took home the "Food Bank Favorite" trophy for their "CANbell's Soup" CANstructure. Measuring in at over 6 feet tall, 4 feet in diameter, and containing a total of over 1,700 cans, the design resonated with Food Bank representatives for its ties to Campbell's Soup in Camden and being such a well-loved food by so many people. Although simple in shape, the detailing of the "Campbell's" lettering was applauded.
AIA West Jersey seeks to sponsor this event on an annual basis. This year's event resulted in 13,461 cans of food donated to the Food Bank of South Jersey. If you or your firm are interested in potential sponsorship of your team, or if you would like to organize a AIA West Jersey team in 2018, please contact us at: westjerseyaia@gmail.com.
For additional information about the Food Bank of South Jersey, please visit their website: http://foodbanksj.org/