BIM, Wine & Cheese Inaugural Event – January 19, 2017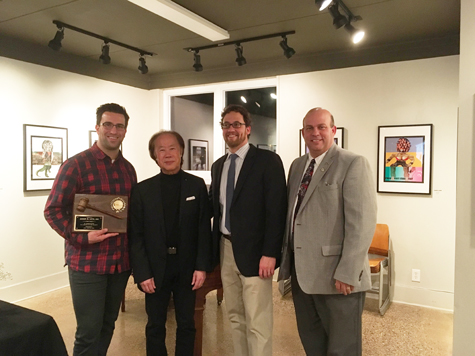 On January 19th, AIA West Jersey and Graphisoft, producers of ARCHICAD, hosted a BIM, Wine & Cheese Inaugural Event at the Markeim Arts Center in Haddonfield, NJ.
GRAPHISOFT BIM Specialist, Zoltan Toth, demonstrated ArchiCAD and BIMx softwares, offered best practices, and discussed BIM Return-on-Investment.  Attendees learned something new whether already a ArchiCAD user or just considering the move to BIM.
The event featured a sampling of Hungarian wines from Palinkerie Winery. Hungarian wine is quickly becoming popular—it's both a novelty on this side of the Atlantic yet also the product of a rich, 1,000-year-old winemaking tradition.  Wines were enjoyed with a selection of cheeses and other victuals.
For the inaugural event, we were honored to have AIA New Jersey 2017 President, Ben Lee, AIA, in attendance to swear in the members of the 2017 AIA WJ Board.
On top of all this, attendees were able to network and take in the Exquisite Corpse exhibit on display at the Markeim Art Center.  The Exquisite Corpse is an artistic collage of head, torso and legs, where each component is created by a separate artist. No one knows how it will turn out until the works are assembled.  Markeim members and guest artists have produced nearly a 100 works currently on display.
Please join AIA West Jersey for our next event, a tour of maker-space NextFab in South Philadelphia on February 24, 2017, and Save the Date for our Building Tour at the Pinelands Preservation Alliance on March 25th, 2017.
Keep on to date with AIA West Jersey on our website: www.aiawestjersey.org and on Facebook: www.facebook.com/AIAWestJersey/